New stamp pays tribute to First Nations political leader, author and champion of his people, George Manuel
Strong-willed and tireless in his dedication, Manuel lobbied for the inclusion of Indigenous and treaty rights in the Canadian Constitution.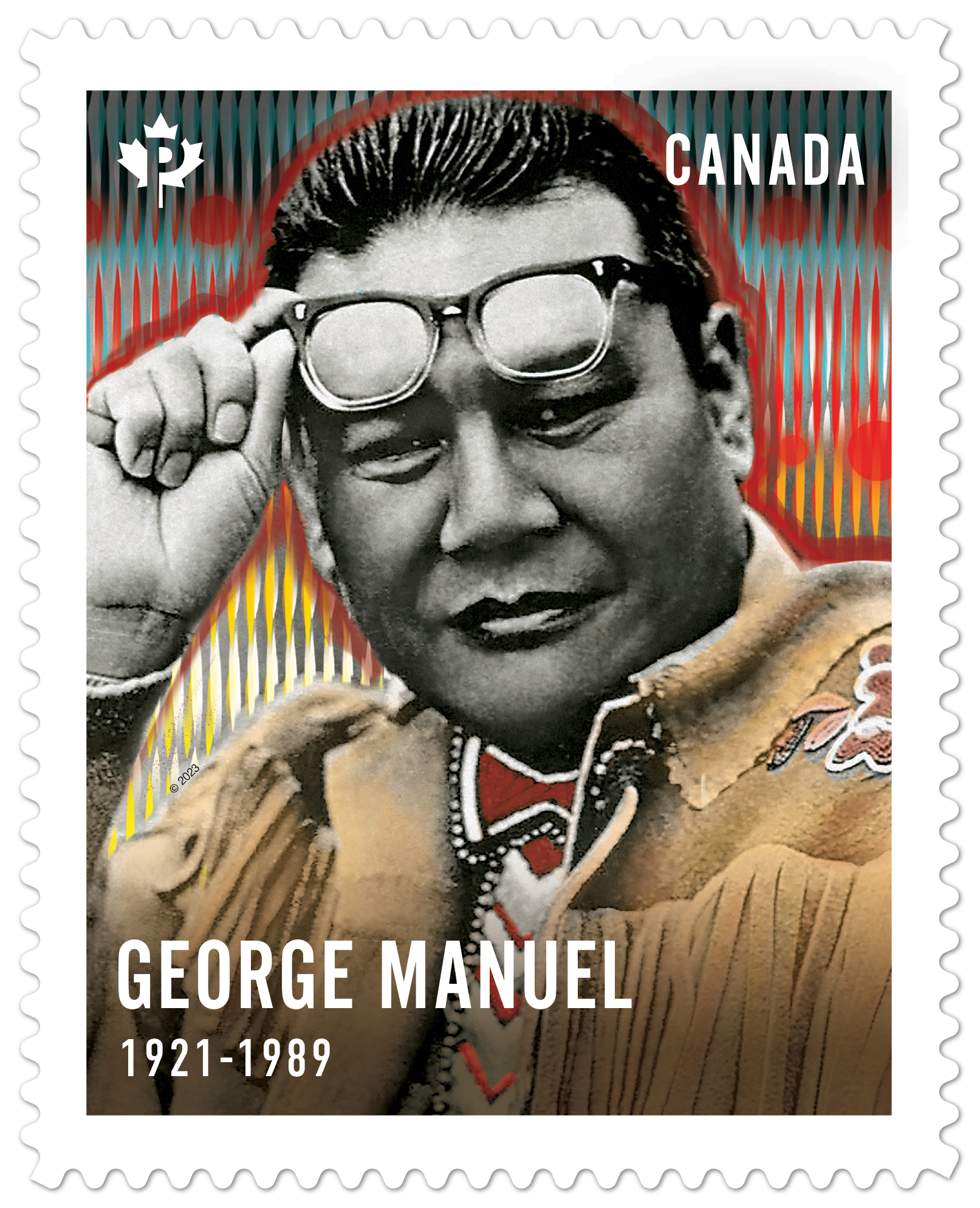 This news release is also available to read in Secwepemc

NORTH VANCOUVER, British Columbia – Today at an event in North Vancouver, Canada Post unveiled a commemorative stamp honouring the life and legacy of George Manuel.
A member of the Neskonlith Indian Band of the Secwepemc Nation in British Columbia, Manuel (1921‑89), was an author, astute political strategist and champion of Indigenous Peoples whom many credit with inspiring the modern Indigenous movement in Canada. During a political career that spanned four decades, Manuel dedicated himself to uniting Indigenous Peoples around the world at the local, regional, national and international levels.
This stamp is one of three Indigenous Leaders stamps that will be released on June 21. The set is the second in Canada Post's multi-year Indigenous Leaders series.

George Manuel's work and legacy
George Manuel served as National Chief of what is now the Assembly of First Nations from 1970 to 1976, and as the first president of both the World Council of Indigenous Peoples and the Union of British Columbia Indian Chiefs.
Manuel believed that Indigenous Peoples, at home and around the world, could achieve their goals if they united. He fought the Canadian government's policies of assimilation and organized the Constitution Express, a movement that brought supporters from the west to Ottawa, and to the United Nations headquarters in New York, by train in 1980 – and to Europe in 1981 – to lobby for the inclusion of Indigenous rights in the patriated Canadian Constitution.
His efforts contributed to the recognition and affirmation of existing Indigenous and treaty rights in the Constitution Act, 1982.
Co-founder of the Center for World Indigenous Studies, Manuel was nominated three times for the Nobel Peace Prize. He died on November 15, 1989, in Kamloops, British Columbia.

About the stamp
Cancelled in Chase, B.C. (George Manuel's birthplace), this stamp features a bold reinterpretation of a black and white image taken of Manuel in the 1970s. The multi-coloured designs, illustrated by Secwepemc artist Tania Willard, represent the "shining light" of Manuel's message for international Indigenous rights, while the deep red ochre evokes the pictographs and other markings found on Secwepemc lands.
About the Indigenous Leaders stamp series
Launched in 2022, the multi-year Indigenous Leaders stamp series highlights the contributions of modern-day First Nations, Inuit and Métis leaders. These extraordinary people dedicated their lives to preserving their cultures and improving the quality of life of the Indigenous Peoples in Canada.
This year, on National Indigenous Peoples Day, Canada Post will issue stamps honouring Indigenous leaders Nellie Cournoyea, George Manuel and Thelma Chalifoux.
The two other stamp unveilings this week:
On June 11, the stamp honouring Nellie Cournoyea was presented at an event in Ulukhaktok, Northwest Territories.
On June 13, the stamp commemorating Thelma Chalifoux will be revealed at an event in St. Albert, Alberta.
The new stamps and collectibles will be available at canadapost.ca and postal outlets across Canada beginning June 21.
For links to images of the stamps and other products, Details magazine and other resources:
- 30 -
For more information:
Media Relations
613-734-8888