New stamp honours Métis leader Thelma Chalifoux, the first Indigenous woman appointed to the Senate of Canada
Chalifoux dedicated her life to advocating for social justice and women's and Indigenous rights.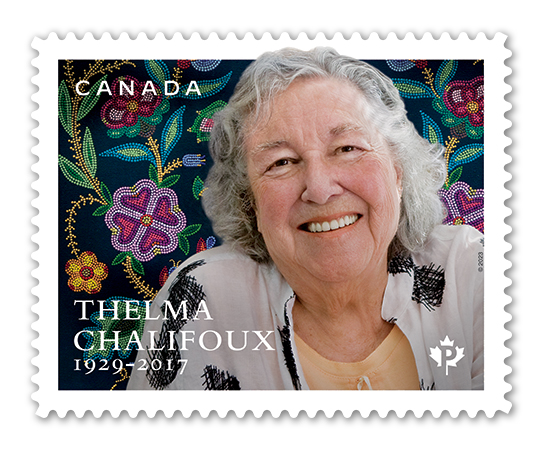 This news release is also available to read in Cree.
ST. ALBERT, Alberta – At an event today, Canada Post unveiled a new commemorative stamp honouring Métis activist and trailblazer, Thelma Chalifoux.
The first Indigenous woman appointed to the Senate of Canada, Chalifoux was a powerful force for social justice and women's and Indigenous rights.
This stamp is one of three Indigenous Leaders stamps that will be released on June 21. The set is the second in Canada Post's multi-year Indigenous Leaders series.
The life and legacy of Thelma Chalifoux
Born in Calgary, Alberta, Chalifoux (1929-2017) was known for her kind heart and boundless energy. She channelled the strength she gained from her own personal challenges to help others and speak up against discrimination.
After leaving an abusive husband and fighting to regain custody of her children – who, like many other Indigenous children, were forced into the child welfare system – she went back to school and became a fieldworker with Métis Association of Alberta, what is now the Métis Nation of Alberta.
Later working for the Association in Slave Lake, Alberta, Chalifoux co-founded the Slave Lake Native Friendship Centre, which provides a range of programs and services to urban Indigenous people. She also ran the community's first safe house for women fleeing from domestic violence. A land claims negotiator from 1979 to 1982 (and again from 1996 to 1998), she was involved in constitutional talks in the early 1980s as part of a Métis delegation to Ottawa that helped to get First Nations, Métis and Inuit Peoples recognized as separate and distinct nations.
In 1997, Prime Minister Jean Chrétien appointed her to the Senate, making her the first Indigenous woman to become a senator. She fought tirelessly to improve the welfare of her people, particularly Métis women, and helped create provincial programs for Indigenous Peoples in the areas of housing, education and social assistance.
After retiring in 2004, Chalifoux went on to help found the Michif Cultural Institute (now Michif Cultural Connections) and the St. Albert's Meadowview Centre for Women's Health and Wellness, both in St. Albert. She also served as an Elder at the Nechi Institute: Centre of Indigenous Learning and was Métis Elder in Residence at the Northern Alberta Institute of Technology. She died on September 22, 2017, at age 88.
About the stamp
Cancelled in Calgary, Alberta (Thelma Chalifoux's birthplace), the stamp features a photo of Chalifoux from the Northern Alberta Institute of Technology. The background shows detail from The Celebration, a painting by Métis visual artist Christi Belcourt, and pays homage to Chalifoux's love of flowers.
About the Indigenous Leaders stamp series
Launched in 2022, the multi-year Indigenous Leaders series highlights the contributions of First Nations, Inuit and Métis leaders. These extraordinary people dedicated their lives to preserving their cultures and improving the quality of life of the Indigenous Peoples in Canada.
This year, on National Indigenous Peoples Day, Canada Post will issue stamps in honour of Indigenous leaders Nellie Cournoyea, George Manuel and Thelma Chalifoux.
This week, two other stamp unveiling events were held:
On June 11, the stamp honouring Nellie Cournoyea was presented at an event in Ulukhaktok, Northwest Territories.
On June 12, the stamp commemorating George Manuel was revealed at an event in North Vancouver, British Columbia.
The new stamps and collectibles will be available at canadapost.ca and postal outlets across Canada beginning June 21.
For links to images of the stamps and other products, Details magazine and other resources:
- 30 -
For more information:
Media Relations
613-734-8888