"Let's Take the Ferry!" New stamps highlight Canada's marine heritage
Stamp issue showcases five active ferries representing Canada from coast to coast.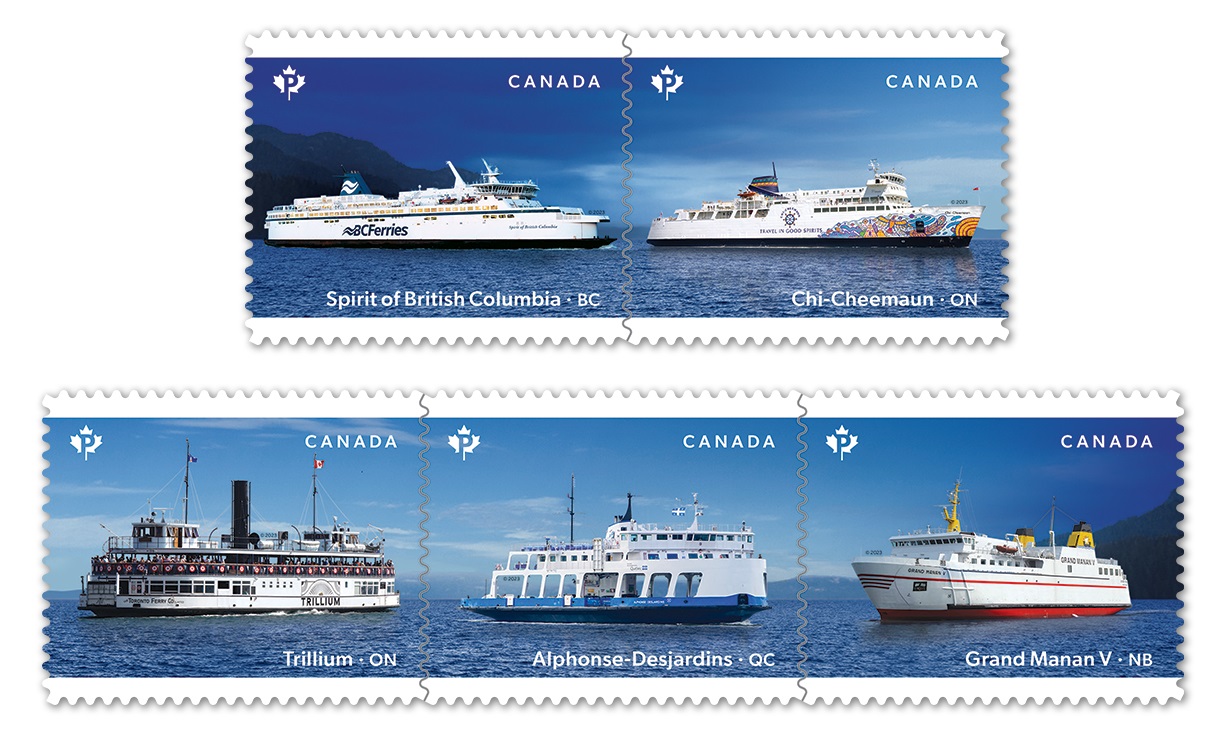 OTTAWA – Canada Post is releasing five new stamps highlighting ferry transportation in Canada. Featuring five ferries that are operating in Canadian waters, the stamp issue honours the country's rich marine heritage.
Waterway transportation has been a fundamental part of Canada's history and development, with Indigenous Peoples traditionally using canoes, kayaks, umiaks and other vessels to hunt, transfer goods and carry people along coastal regions and across lakes and rivers. Today, ferries in Canada transport millions of passengers and vehicles each year, playing important roles in regional transit systems and the tourism industry.
The stamp issue presents five ferries, each representing different regions of Canada:
Spirit of British Columbia connects Vancouver (Tsawwassen) and Victoria (Swartz Bay, Vancouver Island), B.C., across the Salish Sea.
Chi-Cheemaun travels between Tobermory (Bruce Peninsula) and Manitoulin Island (South Baymouth), Ont., across Lake Huron's Georgian Bay.
Trillium provides passage between Toronto and the Toronto Islands, Ont., across Lake Ontario.
Alphonse-Desjardins links Québec and Lévis, Que., across the St. Lawrence River.
Grand Manan V connects Blacks Harbour and Grand Manan Island, N.B., across the Bay of Fundy.
About the ferries
Spirit of British Columbia has a capacity for 2,100 passengers and crew, along with more than 350 vehicles, and is one of the two largest ferries in the BC Ferries fleet. Built in 1993, the vessel was converted in 2018 to dual-fuel propulsion, allowing the ship to use liquefied natural gas and significantly reduce CO2
Chi-Cheemaun, which means "big canoe" in Ojibwe, was built in 1974 and runs from May to October. The ferry features Woodland-inspired artwork on its bow and funnel, while on-board amenities include Muskoka chairs on the upper deck and an art gallery.
Trillium is the oldest ferry of the stamp issue. Launched in 1910, the vessel is a rare side-wheeled paddle steamer and, at 564 gross tonnes, is the largest ferry in the Toronto fleet and can carry up to 800 passengers.
Alphonse-Desjardins, named after the founder of North America's first credit union, was built in 1971 and traverses a one-kilometre span of the St. Lawrence River between Québec and Lévis year-round, offering views of the old city and its fortifications from the water.
Grand Manan V navigates in some of the world's highest tides to bring visitors and residents to and from Grand Manan – the largest island in the Bay of Fundy – while providing passengers with a chance to spot wildlife, including whales and seabirds. The vessel also transports millions of dollars of lobster, salmon and dulse each year.
About the stamp issue
Designed by Lionel Gadoury and Owen Gabany of Context Creative, the stamps depict postcard-perfect photos of the ferries in their home waters. Printed by Lowe-Martin, the issue includes a booklet of 10 Permanent™ domestic rate stamps, an Official First Day Cover (a first day of issue special envelope), and a souvenir sheet of five stamps.
The stamps and collectibles are available at canadapost.ca and postal outlets across Canada.
For links to images of the stamps and other products, Details magazine and other resources:
- 30 -
For more information:
Media Relations
613-734-8888
media@canadapost.ca
TM Trademark of Canada Post Corporation