Canada Post officially opens the Albert Jackson Processing Centre
Canada's new ecommerce hub is built to boost the evolving retail economy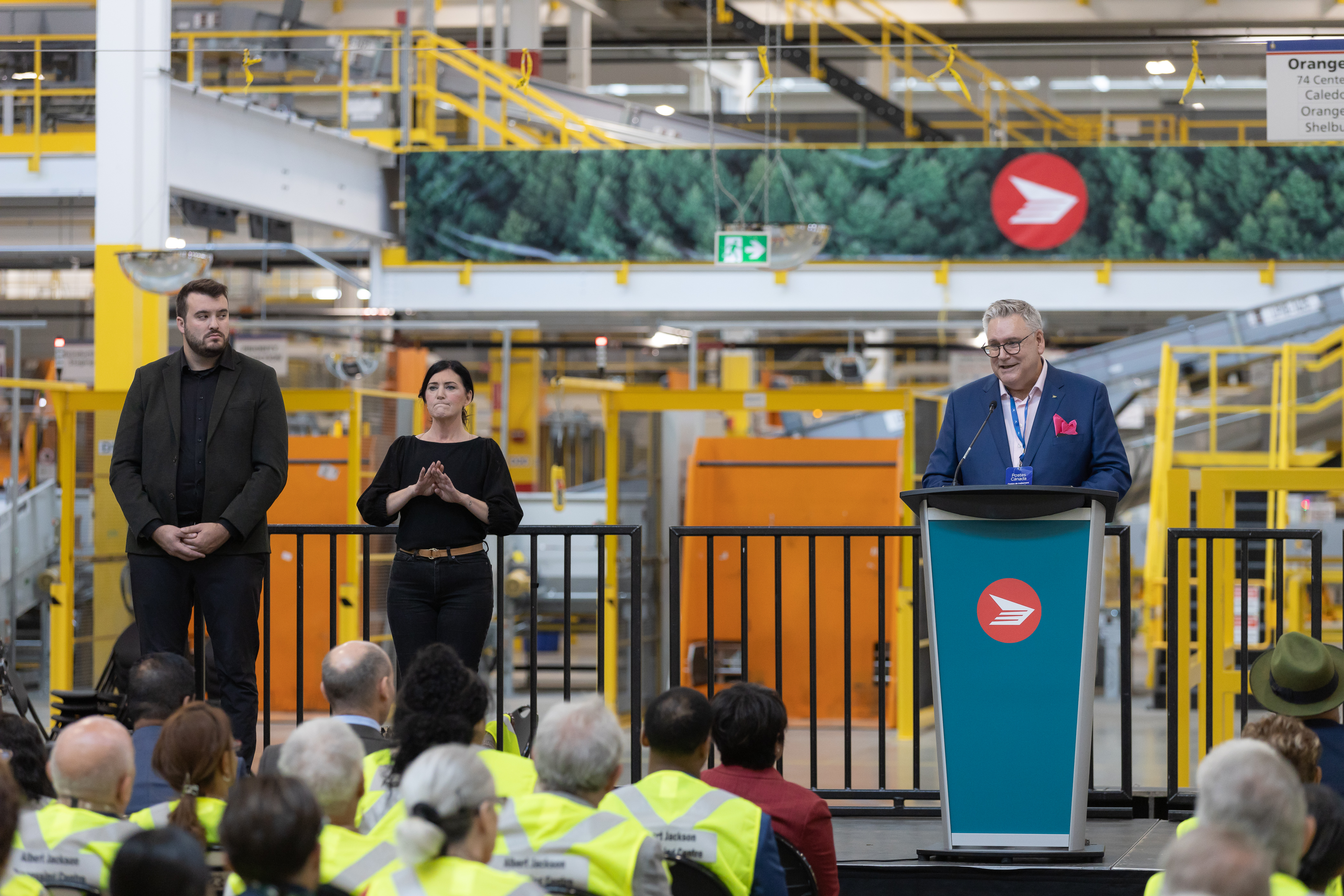 SCARBOROUGH, Ontario – Canada Post officially opened today the Albert Jackson Processing Centre, a leading-edge parcel sorting facility built to improve service for Canadians and businesses and fuel ecommerce in Canada for decades to come.
Bolstering Canada's largest delivery network, this facility is Canada Post's largest, fastest and greenest parcel sorting facility. It has doubled the company's processing capacity in the Greater Toronto Area – where most of Canada's parcels originate – and its impact will be felt across the country. With ecommerce expected to double in Canada over the next decade, this facility will help connect all Canadians and boost the retail economy.
"The Albert Jackson Processing Centre is much more than a building – it is a generational investment in the future of our country," says Doug Ettinger, President and CEO of Canada Post. "This facility will drive our network nationwide and help support the Canadian economy for decades to come. It will solidify Canada Post as our country's ecommerce delivery leader."
The new $470-million, zero-carbon facility, located at 1395 Tapscott Road in Scarborough, can process one million packages a day at full capacity, making it Canada's new ecommerce hub.
"More than ever, Canada needs a strong Canada Post. As Canadians increasingly rely on ecommerce, the ability to effectively deliver goods to every community will be integral to our country's future," says the Honourable Jean-Yves Duclos, Minister of Public Services and Procurement, and the minister responsible for Canada Post. "With the opening of the Albert Jackson Processing Centre, Canada Post will have the capacity it needs to enable future ecommerce growth and the transformation of our retail economy."
While the facility positions the company for future growth, its name serves as an important reminder of the past. Albert Jackson was the first Black letter carrier in Canada. He had to fight to overcome significant racial barriers in the workplace, including the right to work in the position he was hired for. Canada Post was honoured to have several members of the Jackson family, including one who currently works for the company, attend the grand opening ceremony.
"This incredible new facility is creating jobs right here in Scarborough and celebrating and honouring the life and legacy of Toronto's own Albert Jackson," says the Honourable Gary Anandasangaree, Minister of Crown-Indigenous Relations and member of Parliament for Scarborough—Rouge Park. "Albert Jackson's remarkable story reminds us of the importance of creating workplaces free of systematic racism, harassment and discrimination – and that racism, and anti-Black racism, has no place in our society."
About the facility
It is able to sort more than 60,000 packages per hour – 50 per cent more than Canada Post's Gateway facility in Mississauga, previously the company's largest parcel plant.
The facility has the capacity to process more than one million packages a day.
A package can arrive, be processed and be ready for dispatch in less than four minutes.
The building is 585,000 square feet – roughly the size of six CFL football fields – and contains nearly eight kilometres of conveyors.
It is Canada Post's first zero-carbon building and the largest industrial project in Canada with the Zero Carbon Building Standard designation.
Rooftop solar panels generate clean, renewable energy onsite.
Approximately 900 employees work at the facility.
The facility is an important piece of Canada Post's transformation plan and will help the company deliver on its purpose: A Stronger Canada – Delivered.
About Albert Jackson
In 1882, Albert Jackson – who had been born into slavery and found freedom in Canada after his mother fled north via the Underground Railroad – was hired as a letter carrier in Toronto. However, he faced significant barriers in his workplace. His colleagues refused to train him and he was instead assigned to a lower position.
The Black community in Toronto rallied around Jackson, demanding he be allowed to work in the role he was hired for. His supporters brought his case before the federal government, which intervened on his behalf. Jackson won the right to work in the role he was hired for and became the first Black letter carrier in Canada. He held the job for 36 years, until his death in 1918.
Jackson was commemorated on a stamp in 2019. The naming of the Albert Jackson Processing Centre is intended to honour, share and preserve his legacy, and serve as a reminder of the importance of equality and respect in the workplace.
For more information
Here are links to find images, videos and facts on the new Albert Jackson Processing Centre:
- 30 -
For more information:
Media Relations
613-734-8888