The Royal Canadian Geographical Society 75th Anniversary Commemorative Envelope
November 04, 2004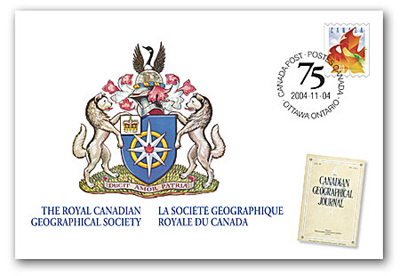 Well-known for its popular magazine, Canadian Geographic, the Royal Canadian Geographical Society (RCGS) has been teaching Canadians and the world about Canada for 75 years.
"We must all be geographers if we are to live intelligently in this world," said Vincent Massey in 1957, when presenting the first Massey Medal, one of several awards sponsored by the RCGS. Nowhere is this more true than in the vast expanses of Canada.
The society makes geographers of us all through educational activities like the Great Canadian Geography Challenge, an ongoing series of lectures, a program for research and grants, and expeditions that bring Canadians to their country's most remote places.
Commemorating the RCGS' founding in 1929, this envelope features a special cancel and displays the society's coat of arms, along with the first issue of the publication that became Canadian Geographic. The reverse shows the society's compass rose, a symbol of exploration familiar to generations of Canadians.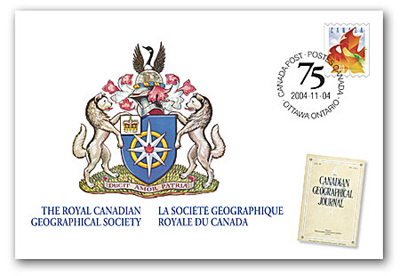 Commemorative Envelope
$2.00
Product #: 341665
Denomination: 1 x 49¢
Design: The Royal Candian Geographical Society
Quantity: 12,000
Shop