From Far and Wide
January 13, 2020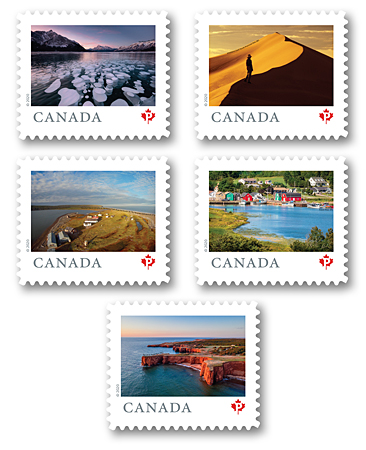 Join us as we visit the newest must-see places in the third issue of our From Far and Wide series. From the Rocky Mountains in British Columbia to the rugged coast of Nova Scotia, the scenic vistas in this set of nine stamps are sure to inspire you to pack a bag, grab a map and go.
Stéphane Huot, who also developed the design for the first two issues, says beauty is found in the series' continuity, while a fresh colour palate and eye--popping new images make each issue visually unique.
From Far and Wide includes five PermanentTM domestic rate stamps and one of each at the single-stamp domestic, U.S., oversized and international rates. Also available are postcards of all nine breathtaking locations and a souvenir sheet Official First Day Cover – cancelled in Radium Hot Springs, British Columbia, the town closest to Kootenay National Park, which celebrates its 100th anniversary in 2020.
Abraham Lake (Alta.), PermanentTM rate
Created in 1972, when the Bighorn Dam was constructed, Abraham Lake is Alberta's largest artificial lake. Located about 200 kilometres from Red Deer, it has become popular with tourists and photographers – especially in winter, when methane gas bubbles trapped in the ice create spectacular patterns.
Athabasca Sand Dunes Provincial Park (Sask.), PermanentTM rate
Athabasca Sand Dunes Provincial Park is home to the largest active sand surface in Canada and hosts a unique ecosystem that supports several species of rare, endemic plants. The dunes, which can rise as high as 30 metres, are believed to have been formed 8,000 to 9,000 years ago and are the most northern on Earth.
Herschel Island-Qikiqtaruk Territorial Park (Yukon), PermanentTM rate
Located north of the Arctic Circle, Herschel Island-Qikiqtaruk Territorial Park is a prime destination for experienced wilderness seekers. This living park is home to the Inuvialuit people, who still use the area for hunting and fishing. Visitors can learn about the island's unique culture and natural history, and tour a 19th-century whaling station.
French River (P.E.I.), PermanentTM rate
Set on an inlet off New London Bay within the Green Gables Shore region, the tiny fishing village of French River exemplifies the rural charm of Prince Edward Island. The boats and brightly painted fish sheds in the harbour, framed by rolling farmland, make it one of the province's most photographed and painted places.
Îles de la Madeleine (Que.), PermanentTM rate
Take a five-hour ferry ride from Prince Edward Island to find the Îles de la Madeleine – or Magdalen Islands – which have a unique culture blended from their various settlers and inhabitants. You can savour the Madelinots' renowned seafood cuisine, discover endless beaches, take thrilling marine excursions and enjoy a thriving arts scene.
Carcajou Falls (N.W.T.), single-stamp domestic rate
After meandering through a flat river valley, the Carcajou River makes a sudden 670-metre drop, creating the spectacular upper Carcajou Falls – the first of three drops. To witness the dramatic falls, you can either hike along the demanding Canol Heritage Trail or take a flightseeing tour from the nearby town of Norman Wells.
Kootenay National Park (B.C.), U.S. rate
Home to the popular Radium Hot Springs, Kootenay National Park boasts more than 1,400 square kilometres of contrasting wilderness and breathtaking scenery, including the massive limestone face of the Rockwall. Kootenay, one of seven national and provincial parks in the Rocky Mountains, celebrates its 100th anniversary in 2020.
Swallowtail Lighthouse, Grand Manan Island (N.B.), oversized rate
Since it started service in 1860, the Swallowtail Lighthouse has retained the original wooden tower and continues to operate as a navigation aid in the Bay of Fundy. Thanks to the commanding perch on a rugged peninsula, it will likely be the first landmark you'll see when arriving by ferry, and is an ideal vantage point for seal, whale and seabird watching.
Cabot Trail, Cape Breton Island (N.S.), international rate
Looping nearly 300 kilometres around the northern part of Cape Breton Island, the Cabot Trail offers you stunning coastal views, rugged highland panoramas, and authentic Celtic and Acadian hospitality. The award-winning year-round road provides easy access to activities ranging from hiking and cycling to golfing and sea kayaking.
Booklet of 10 stamps
$9.20
Product #: 111243
Denomination: 5 x Permanent™ (domestic rate)
Design: Stéphane Huot
Dimensions: 24 mm x 20 mm
Printer: Lowe-Martin
Printing Process: Lithography in 5 colours
Quantity: Continuous printing
Gum Type: PVA
Shop