Year of the Rat
January 17, 2020
Our latest series of Lunar New Year stamps wraps up with the Year of the Rat – the first of the 12 signs in the Chinese zodiac.
As legend has it, the rat earned the primary position thanks to its cunning nature. According to one story, the Jade Emperor based the 12-year cycle on the order in which the animals arrived at the heavenly temple. The rat persuaded the tireless ox, which was sure to win, to carry it to the finish line. Just as the ox approached the temple, the rat jumped down and scurried ahead to take first place.
Designed by Albert Ng, O. Ont., and Seung Jai Paek, the stamps present the traditional story of the wedding of the rat's daughter in the style of folk art known as Chinese farmer painting. The PermanentTM domestic rate stamp depicts the bride on her way to her nuptials, while the international rate stamp shows the happily married couple.
"A merry wedding procession of rats is a common folk-art motif associated with the Chinese New Year," explains Ng. "The snowy scene, reminiscent of Canada or northern China, joyfully captures the celebration of the wedding – and the coming new year."
The Year of the Rat begins January 25, 2020, and ends February 11, 2021.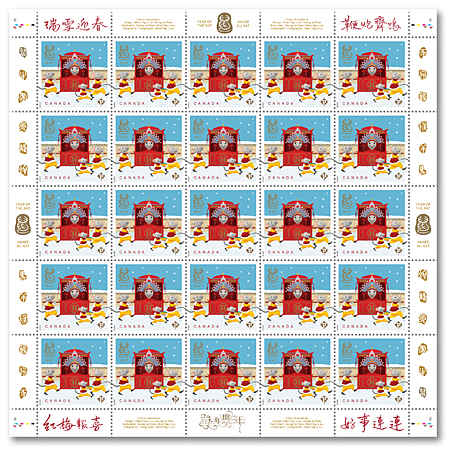 Product #: 404126107
Denomination: Permanent™ (domestic rate)
Design: Albert Ng, O.Ont., and Seung Jai
Dimensions: 32 mm x 32 mm
Printer: Colour Innovations
Printing Process: Lithography in 5 colours, embossing, 1 foil stamping
Quantity: 35,000
Gum Type: PVA
Illustration: Seung Jai Paek, and Albert Ng, O.Ont.
Shop