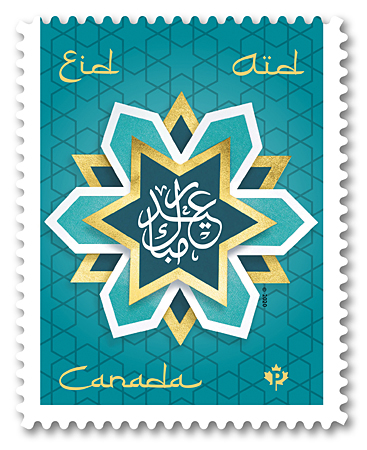 Issue date: April 24, 2020
Eid Mubarak! The traditional Arabic greeting of "have a blessed Eid" is presented in calligraphy on this stamp for the two most important festivals in the Islamic calendar. Eid al-Fitr and Eid al-Adha are celebrated by Muslims around the world, including more than one million Muslims in Canada.
Eid al-Fitr, the Festival of Breaking the Fast, brings a joyful end to the holy month of Ramadan during which many Muslims fast through the day. Eid al-Adha, the Festival of Sacrifice, marks the end of the pilgrimage to Mecca. Both celebrations can last several days and include congregational prayers, communal feasts, visits with family, the offer of gifts and acts of charity. In 2020, they begin on May 23 and July 30, respectively.
"These festivals are times for celebration and spiritual reflection," says Dr. Anver M. Emon, Director of the Institute of Islamic Studies at the University of Toronto, who helped ensure the accuracy of the stamp issue. "It is a pleasure to see Canada Post mark these important occasions with a stamp that wishes all Canadians a blessed Eid."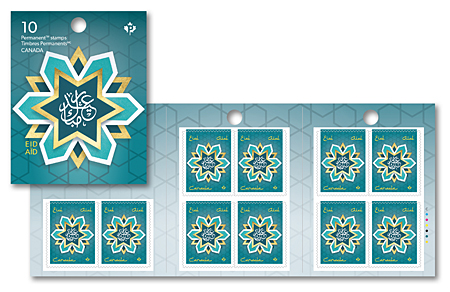 Booklet of 10 stamps
$9.20
Product #: 414132111
Denomination: Permanent™ (domestic rate)
Design: Lionel Gadoury, Dave Hurds, Muneeb Khatana | Context Creative
Dimensions: 28 mm x 35 mm
Printer: Lowe-Martin
Printing Process: Lithography in 6 colours
Quantity: 130,000
Tagging: 3 sides
Shop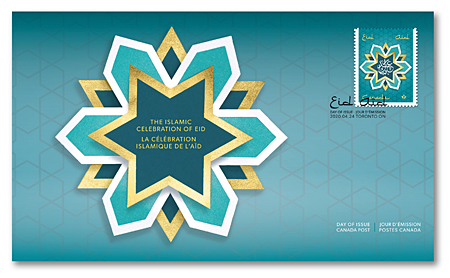 Official First Day Cover
$1.92
Product #: 414132131
Denomination: Permanent™ (domestic rate)
Design: Lionel Gadoury, Dave Hurds, Muneeb Khatana | Context Creative
Dimensions: 190 mm x 112 mm
Printer: Lowe-Martin
Quantity: 7,000
Tagging: 3 sides
Shop