Victory in Europe 1945-2020
April 24, 2020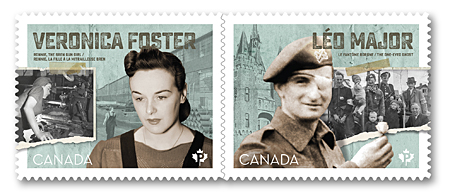 Issue date: April 29, 2020
On May 8, 2020, we mark the 75th anniversary of the end of the Second World War in Europe – a milestone known as Victory in Europe Day. More than one million brave Canadians who served in the conflict helped make the victory possible – as did everyone on the home front whose efforts kept the economy going and provided food, munitions and other critical supplies to the armed forces. To mark this significant anniversary, Canada Post issued a pair of stamps. They tell the stories of two Canadians who exemplified the courage, determination and sacrifice that helped secure the victory in Europe.
By the height of the war, nearly one million Canadian women were working in manufacturing plants, filling gaps in the workforce left by men serving overseas. In 1941, Veronica Foster, who made Bren light machine guns at John Inglis Co. Limited in Toronto, was selected by the Canadian government for a public relations campaign to encourage women's participation in the nation's war industries. "Ronnie the Bren Gun Girl" – believed by some to have inspired the fictional American icon "Rosie the Riveter" – motivated women across Canada to roll up their sleeves and get to work for the war effort.
In April 1945, Private Léo Major, known as the "One-eyed Ghost" after losing partial vision during D-Day battles, and Corporal Welly Arsenault volunteered to scout the German-occupied Dutch town of Zwolle. Enraged by the fatal shooting of his comrade just hours into the mission, Major took up Arsenault's weapons and charged the town alone – running through the streets with "a burst of fire, a couple of grenades and a lot of loud noise." He created the impression of a full-fledged attack, capturing dozens of prisoners and later setting fire to the local Gestapo headquarters. The ruse worked, and the Germans fled. Major was awarded the Distinguished Conduct Medal for single-handedly liberating Zwolle, where a street now bears his name.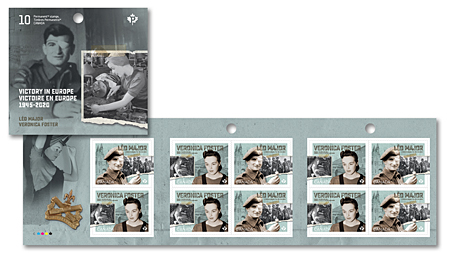 Booklet of 10 stamps
$9.20
Product #: 414130111
Denomination: 2 x Permanent™ (domestic rate)
Design: Ivan Novotny, Taylor | Sprules Corporation
Dimensions: 40 mm x 32 mm
Printer: Lowe-Martin
Printing Process: Lithography in 4 colours
Quantity: 130,000
Shop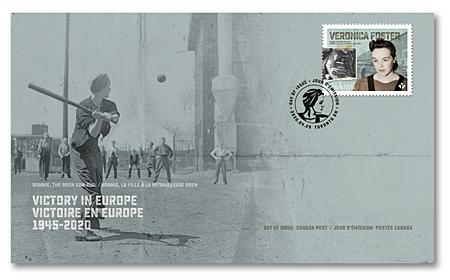 Official First Day Cover – Veronica Foster
$1.92
Product #: 414130131
Denomination: Permanent™ (domestic rate)
Design: Ivan Novotny, Taylor | Sprules Corporation
Dimensions: 190 mm x 112 mm
Printer: Lowe-Martin
Quantity: 7,000
Shop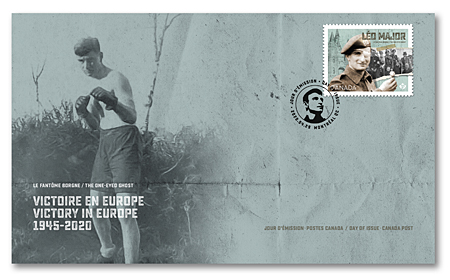 Official First Day Cover – Léo Major
$1.92
Product #: 414131131
Denomination: Permanent™ (domestic rate)
Design: Ivan Novotny, Taylor | Sprules Corporation
Dimensions: 190 mm x 112 mm
Printer: Lowe-Martin
Quantity: 7,000
Shop