Canada Post Community Foundation
October 05, 2020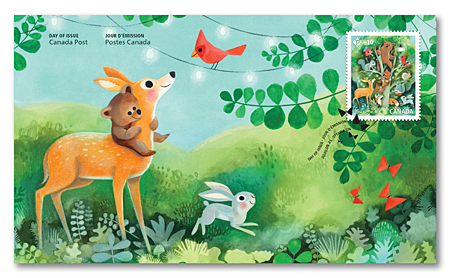 Issue date: September 21, 2020
The design for this year's fundraising stamp issue for Canada Post Community Foundation was most definitely a group effort. After the experts on our Stamp Advisory Committee selected their top three choices, our frontline postal staff were asked to vote for their favourite based on what they had heard from customers about past issues.
The winner, by Subplot Design Inc., features an illustration by Isabelle Arsenault of a diverse (and adorable) community of animals living peacefully in a bountiful tree. It reminds us that, despite our differences, we have the power to come together and enrich each other's lives.
This ninth annual semi-postal fundraising issue once again allows customers to show they care, as one dollar from the purchase of each booklet of 10 stamps and a donation of 10 cents for each Official First Day Cover go directly to the Foundation to support non-profit organizations that help kids in need.
Thanks to the generosity of stamp users and collectors like you, we've raised nearly $9 million over the years for more than 770 local and national groups that bring positive change to Canadian children and youth – and we'll be awarding another $1.3 million this fall.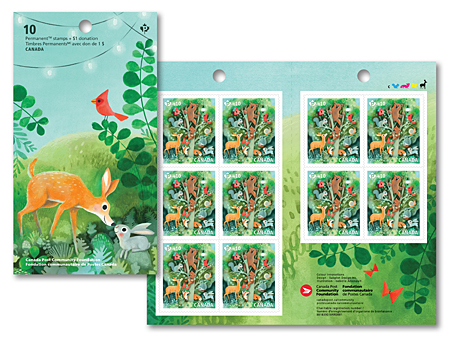 Booklet of 10 stamps
$10.20
Product #: 414144111
Denomination: Permanent™ (domestic rate) + 10¢ donation
Design: Subplot Design Inc.
Dimensions: 33 mm x 40 mm
Printer: Colour Innovations
Printing Process: Lithography in 4 colours
Quantity: 160,000
Illustration: Isabelle Arsenault
Shop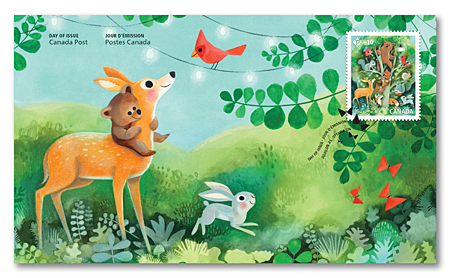 Official First Day Cover
$2.02
Product #: 414144131
Denomination: Denomination:Permanent™ (domestic rate) + 10¢ donation
Design: Subplot Design Inc.
Dimensions: 190 mm x 112 mm
Printer: Colour Innovations
Quantity: 7,000
Illustration: Isabelle Arsenault
Shop