Medical Groundbreakers
October 05, 2020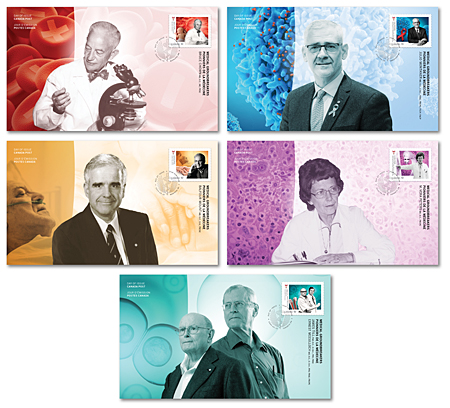 Issue date: September 10, 2020
These five commemorative stamps celebrate six groundbreaking physicians and researchers: Drs. Bruce Chown, Julio Montaner, Balfour Mount, M. Vera Peters, James Till and Ernest McCulloch.
One of the few world leaders in eliminating deadly rhesus (Rh) disease, Dr. Bruce Chown, O.C., MC (1893-1986) established the Winnipeg Rh Laboratory in 1944. His team's research paved the way for the development and licensing of a protein injection for mothers-to-be that has saved the lives of countless newborns.
Research led by Dr. Julio Montaner, O.C., O.B.C. (b. 1956) has helped transform HIV/AIDS from a fatal disease to a manageable condition with a near-normal life expectancy. He pioneered Treatment as Prevention®, which has the potential to end the HIV/AIDS epidemic worldwide.
Considered the father of palliative care in North America, Dr. Balfour Mount, O.C., O.Q. (b. 1939) advocated for a whole-person approach to care. In 1975, he founded the world's first comprehensive palliative care service based in a teaching hospital – at the Royal Victoria Hospital in Montréal.
Dr. M. Vera Peters, o.c. (1911-93) revolutionized cancer treatment, showing that Hodgkin lymphoma, then considered fatal, could be cured with radiation therapy. She also showed that for early breast cancer a lumpectomy combined with radiation is as effective as a radical mastectomy – the routine treatment at the time.
Dr. James Till, O.C., O. Ont. (b. 1931) and Dr. Ernest McCulloch, O.C., O. Ont. (1926-2011) transformed the world's understanding of tissue renewal by confirming the existence of stem cells. Their work has important implications for the treatment of many intractable medical conditions.
This issue salutes these remarkable individuals and the many other healthcare professionals and scientists who have devoted their lives to creating a healthier world – including those working tirelessly to develop diagnostics, treatments and preventions to help respond to the COVID-19 situation.
"This enduring tribute to Canadian health heroes honours their groundbreaking work and brings more awareness to their contributions and discoveries," said Lissa Foster, Executive Director of the Canadian Medical Hall of Fame. "We can all be immensely proud of the global impact of these pioneering Canadians and our country's contributions to health, here and in the world."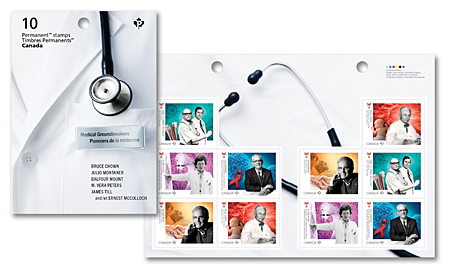 Booklet of 10 stamps
$9.20
Product #: 414152111
Denomination: 5 x Permanent™ (domestic rate)
Design: Mike Savage, Dale Kilian | Signals
Dimensions: 38 mm x 30 mm
Printer: Colour Innovations
Printing Process: Lithography in 5 colours
Quantity: 130,000
Shop