Mary Riter Hamilton
October 22, 2020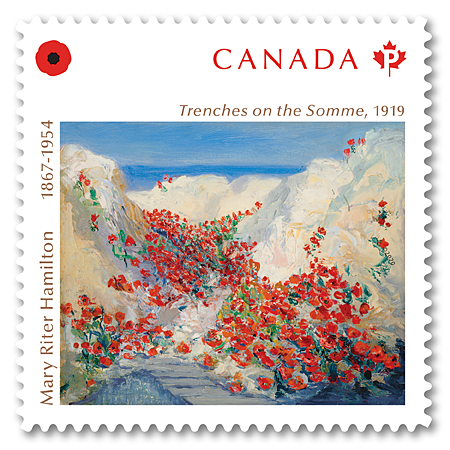 Issue date: October 28, 2020
Issued to mark Remembrance Day, this stamp reproduces Trenches on the Somme (1919) by Mary Riter Hamilton, Canada's first unofficial woman battlefield artist.
Born in Teeswater, Ontario, in 1867 and widowed in her 20s, Riter Hamilton developed a reputation as a distinguished painter – and applied to the Canadian War Memorials Fund to be sent to the frontlines as a war artist.
Although her application was refused, Hamilton was commissioned by the Amputation Club of British Columbia in 1919 to paint the battered battlefields of France and Belgium for its veterans' magazine. Hamilton worked endless hours outdoors with poor shelter and little food or money. She produced more than 300 paintings, drawings and etchings of the widespread devastation and arduous reconstruction efforts, and was awarded France's prestigious Ordre des Palmes académiques in 1922.
In 1925, Hamilton returned to Canada, eventually donating most of her work to what is now Library and Archives Canada. Later hospitalized for ill health caused, in part, by the conditions she had endured on the battlefield, she died in 1954.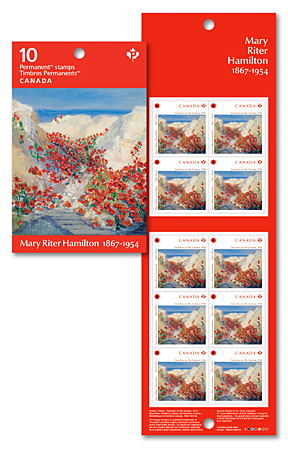 Booklet of 10 stamps
$9.20
Product #: 414146111
Denomination: Permanent™ (domestic rate)
Design: Réjean Myette
Dimensions: 36 mm x 36 mm
Printer: Canadian Bank Note
Printing Process: Lithography in 6 colours
Quantity: 130,000
Shop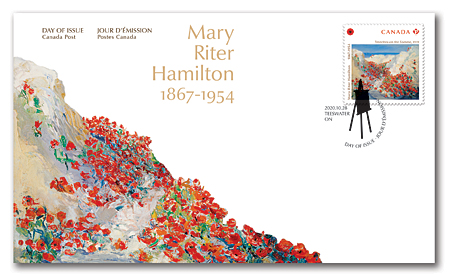 Official First Day Cover
$1.92
Product #: 414146131
Denomination: Denomination:Permanent™ (domestic rate)
Design: Réjean Myette
Dimensions: 190 mm x 112 mm
Printer: Canadian Bank Note
Quantity: 7,000
Shop