Holiday: Maud Lewis
November 10, 2020

Issue date: November 2, 2020
The folk art paintings of Maud Lewis (1901-70) are a colourful and joyful portrayal of country life in the Maritimes. Lewis' earliest works were Christmas cards painted under the tutelage of her mother and sold to neighbours in rural Nova Scotia. This issue features three seasonal works from the 1960s – Winter Sleigh Ride, Team Team of Oxen in Winter and Family and Sled – all part of the collection at the Art Gallery of Nova Scotia in Halifax.
Lewis was born and raised in Yarmouth County, Nova Scotia, and later lived in nearby Marshalltown with her husband, Everett. She spent much of her adult life in a cramped, one-room house with no running water or electricity. Living with rheumatoid arthritis and having no formal training, she was a prolific painter – sometimes producing as many as three pieces a day. Lewis used a vibrant palette to capture the spirit of the people, animals and activities beyond her window and add life to almost every surface in her tiny home, which is also on display at the Gallery.
In 1925, Hamilton returned to Canada, eventually donating most of her work to what is now Library and Archives Canada. Later hospitalized for ill health caused, in part, by the conditions she had endured on the battlefield, she died in 1954.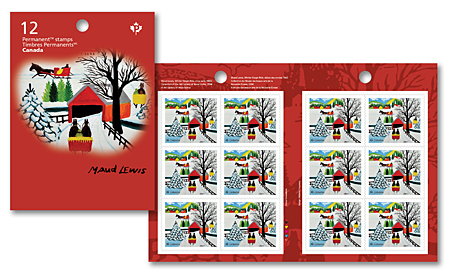 Booklet of 12 stamps
$11.04
Product #: 114148
Denomination: Permanent™ (domestic rate)
Design: Hélène L'Heureux
Stamps: Maud Lewis, Winter Sleigh Ride, circa early 1960s; Team of Oxen in Winter, 1967; Family and Sled, circa 1960s; Collection of the Art Gallery of Nova Scotia
Dimensions: 32.8 mm x 28.8 mm
Printer: Colour Innovations
Printing Process: Lithography in 4 colours
Quantity: 1,000,000
Gum Type: PVA
Shop