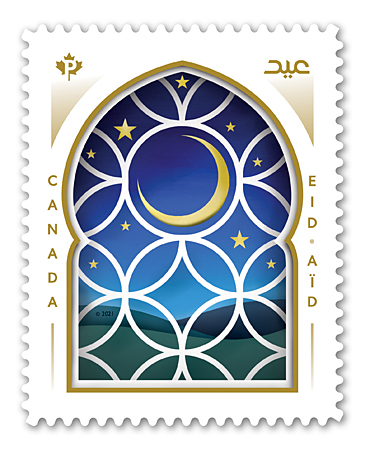 Issue date: April 22, 2021
The crescent moon on this year's eye-catching Eid stamp holds special meaning for Eid al-Fitr and Eid al-Adha – two of the most important religious holidays celebrated by Muslims around the world. A highly recognizable symbol of Islam, it also alludes to the fact that both festivals commence with the sighting of a new moon.
Another striking feature of the stamp design is that the view of the night sky is shown through a window, the shape of which was inspired by arches often used in mosque architecture. An overlaid pattern of hexagrams creates an intricately latticed screen – or jali – another form of decoration common in Islamic architecture.
This issue is the third stamp in Canada Post's ongoing series marking Eid al-Fitr and Eid al-Adha, which begin this year around May 12 and July 19, respectively. The celebrations coincide with two practices of religious and cultural significance – Eid al-Fitr heralds the end of the fast held during the holy month of Ramadan and Eid al-Adha follows the annual Hajj pilgrimage to the holy Kaaba shrine in Mecca. Both festivals are associated with gratitude, empathy and sacrifice, and they focus on opportunities to help those less fortunate.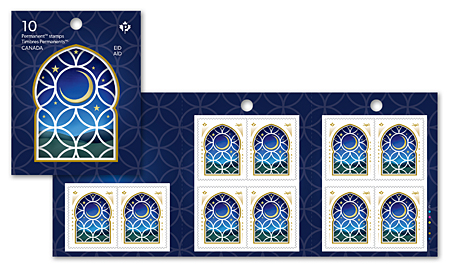 Booklet of 10 stamps
$9.20
Product #: 414165111
Denomination: Permanent™ (domestic rate)
Design: Lionel Gadoury, Andrew Conlon, Brad Pyne | Context Creative
Dimensions: 28 mm x 35 mm
Printer: Lowe-Martin
Printing Process: Lithography in 7 colours
Quantity: 120,000
Shop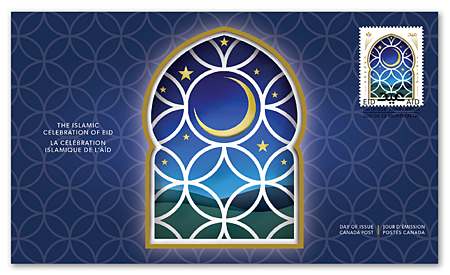 Official First Day Cover
$1.92
Product #: 414165131
Denomination: Permanent™ (domestic rate)
Design: Lionel Gadoury, Andrew Conlon, Brad Pyne | Context Creative
Dimensions: 190 mm x 112 mm
Printer: Lowe-Martin
Printing Process: Lithography in 7 colours
Quantity: 7,000
Shop