Canada Post Community Foundation
September 20, 2021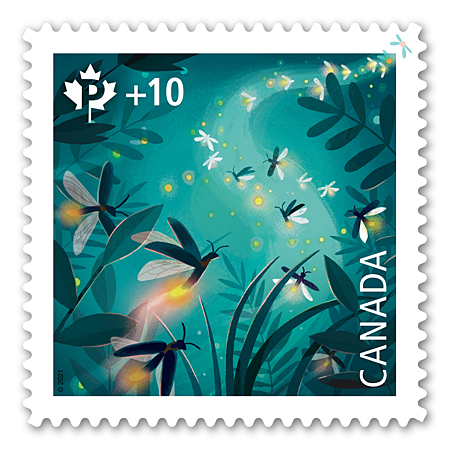 Issue date: September 20, 2021
Following the success of the Canada Post Community Foundation's 2020 stamp, this year's design was also selected by Canada Post frontline employees who are well versed in what appeals to their stamp-buying customers.
The winning design by Subplot offers an illustration by Kim Smith that literally glows with creativity. The luminous fireflies in this charming illustration is a reminder of the light that shines within each of us. We all have the power to make the world brighter for others – especially children and youth – and that's why the Canada Post Community Foundation exists.
This 10th annual fundraising stamp allows customers to donate $1 per booklet (or 10 cents per OFDC) to the Canada Post Community Foundation, which provides funding to local and national non-profit groups that serve needs of children and youth. Since its establishment, the Foundation has raised more than $11 million to support some 1,000 non-profit organizations that bring positive change to Canadian children.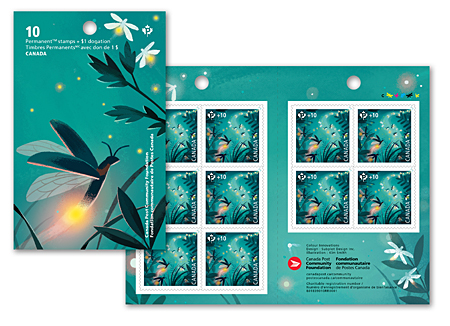 Booklet of 10 stamps
$10.20
Product #: 414169111
Denomination: Permanent™ (domestic rate) + 10¢ donation
Design: Subplot Design Inc.
Dimensions: 30 mm x 30 mm
Printer: Colour Innovations
Printing Process: Lithography in 5 colours
Quantity: 180,000
Illustration: Kim Smith
Shop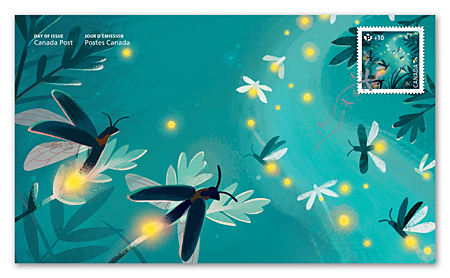 Official First Day Cover
$2.02
Product #: 404022145
Denomination: Permanent™ (domestic rate) + 10¢ donation
Design: Subplot Design Inc.
Dimensions: 190 mm x 112 mm
Printer: Colour Innovations
Quantity: 7,000
Illustration: Kim Smith
OFDC Cancellation Location: Moonbeam ON
Shop