Editorial Cartoonists
October 04, 2021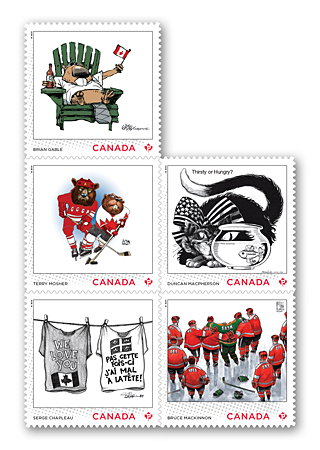 With this stamp issue, Canada Post features the work of five homegrown editorial cartoonists – all members of the Order of Canada and multiple winners of industry awards.
Born in 1949 in Saskatoon, Saskatchewan, Brian Gable studied fine art at the University of Saskatchewan and education at the University of Toronto. In the 1970s, he became a freelance editorial cartoonist for the Brockville Recorder and Times while teaching art in Brockville, Ontario. Hired full time by the Regina Leader-Post in 1980, he later joined The Globe and Mail, where he has been the editorial cartoonist for more than three decades.
Better known as Aislin, Terry Mosher was born in Ottawa, Ontario, in 1942. After taking art courses in an Ontario technical school, he enrolled in the École des beaux arts de Québec. Graduating in 1967, he began his career drawing caricatures on the city's streets. Mosher landed his first job as an editorial cartoonist at the Montreal Star before moving to the Montreal Gazette, where he has used his art to make wry comment on world events for nearly 50 years.
Toronto-born Duncan Macpherson (1924-93) is widely considered to be Canada's greatest editorial cartoonist. During the Second World War, he packed bombs in England and took art classes in his spare time. His veteran's pension paid for studies at Boston's Museum of Fine Arts and Toronto's Ontario College of Art (now OCAD University). Macpherson worked at The Standard in Montréal and Maclean's. He then joined the Toronto Daily Star where he changed the role of Canadian editorial cartoonists by retaining his status as an independent contributor, producing drawings that sometimes opposed the publisher's editorial position.
Serge Chapleau (b. 1945) – known by his last name – grew up in a working-class Montréal neighbourhood and studied painting and graphic arts at the Montreal School of Fine Arts. His career was launched in 1972 after his clever caricature of Quebec singer Gilles Vigneault ran in the widely read weekly Perspectives. Chapleau's work also appeared in Montréal-Matin, L'actualité, Le Devoir and 7 Jours, and in 1996, he became the editorial cartoonist at La Presse. In 2004, his popular puppet character Gérard D. Laflaque was brought to life on the television satire Et Dieu créa…Laflaque.
The editorial cartoonist for The Chronicle Herald in Halifax, Bruce MacKinnon (b. 1961) grew up in Antigonish, Nova Scotia, studied fine arts at Mount Allison University and graphic design at the Nova Scotia College of Art and Design. He began his career as a freelancer, drawing weekly cartoons for the Herald before the paper hired him full time in 1986.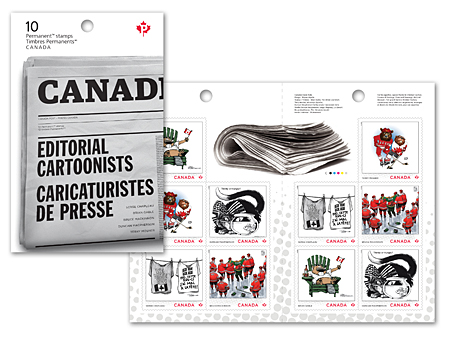 Booklet of 10 stamps
$9.20
Product #: 414134111
Denomination: 5 x Permanent™ (domestic rate)
Design: Réjean Myette
Dimensions: 40 mm x 32 mm
Printer: Canadian Bank Note
Printing Process: Lithography in 5 colours
Quantity: 160,000
Photography: Brian Gable, The Globe and Mail; Terry Mosher, Montreal Gazette; Duncan Macpherson family estate; Serge Chapleau, Le Devoir; Bruce MacKinnon, The Chronicle Herald
Shop