Christopher Plummer, 1929‑2021
October 14, 2021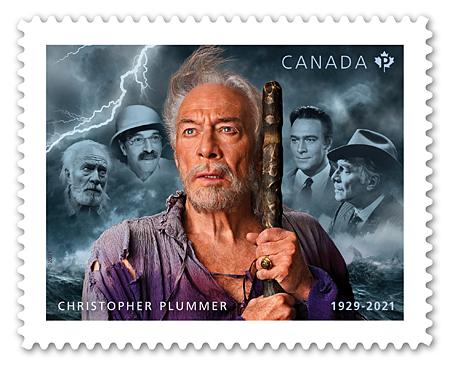 Issue date: October 14, 2021
This stamp pays homage to Toronto-born Christopher Plummer, one of the world's most distinguished and celebrated actors. Over the course of his 70-year career, he appeared in more than 200 films and television programs, and performed on stages from Stratford to Broadway.
Since Canada Post began the production of the stamp in 2019, we were honoured to have Plummer's help in selecting the design. It depicts the actor in several of his most celebrated roles including Prospero, in The Tempest, King Lear in a Stratford Festival production, Rudyard Kipling in The Man Who Would Be King, Captain von Trapp, in The Sound of Music and John Barrymore, in the Stratford production of the play, Barrymore. The moody, tempestuous background is symbolic of the drama he has brought to the stage and screen.
Plummer was born in Toronto, Ontario, on December 13, 1929, and passed away on February 5, 2021, at his Weston, Connecticut home. He is one of only two dozen actors to have won the coveted "triple crown of acting" awards: an Emmy, a Tony and an Academy Award. Raised mainly in Montréal he returned to Toronto in the 1950s, found steady work in television and radio, and was a regular fixture at the Canadian Broadcasting Corporation (CBC). In 1956, Plummer joined the Stratford Shakespeare Festival, performing acclaimed roles such as Hamlet, Henry V, Macbeth and Cyrano de Bergerac. He also headlined at the prestigious National Theatre and the Royal Shakespeare Company.
In 1965, the role of Captain von Trapp in The Sound of Music changed his career forever. While it brought him fame on the big screen, Plummer's magnetic presence has long been demonstrated in such classic roles as King Lear, Mark Antony, Henry V, Iago and Prospero. Plummer's title role in the 1973 Broadway musical Cyrano earned him his first Tony Award; his second came in 1997 for his portrayal of John Barrymore.
In 2009, at the age of 80, Plummer was nominated for his first Academy Award in the category of actor in a supporting role, for his performance as Leo Tolstoy in Michael Hoffman's The Last Station.
In 2011, he won his first Academy Award for his role in Beginners, becoming the oldest winner of a competitive Oscar in an acting category. His work has earned him earned countless international awards and honours, including Golden Globe, BAFTA, SAG, Genie and (two) Emmy awards. He was also named a Companion of the Order of Canada.
Stamp: Christopher Plummer in some of his most famous roles. Foreground – Prospero, The Tempest; photo: Andrew Eccles. Background, from left to right – King Lear, King Lear; photo: V. Tony Hauser, courtesy of Stratford Festival. Rudyard Kipling, The Man Who Would Be King, courtesy of Warner Bros. Entertainment. Captain von Trapp, The Sound of Music, courtesy of The Walt Disney Company. John Barrymore, Barrymore; photo: Cylla von Tiedemann, courtesy of Stratford Festival.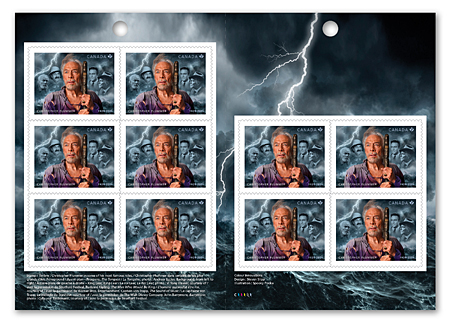 Booklet of 10 stamps
$9.20
Product #: 414168111
Denomination: Permanent™ (domestic rate)
Design: Steven Slipp
Dimensions: 40 mm x 32 mm
Printer: Colour Innovations
Printing Process: Lithography in 5 colours
Quantity: 200,000
Shop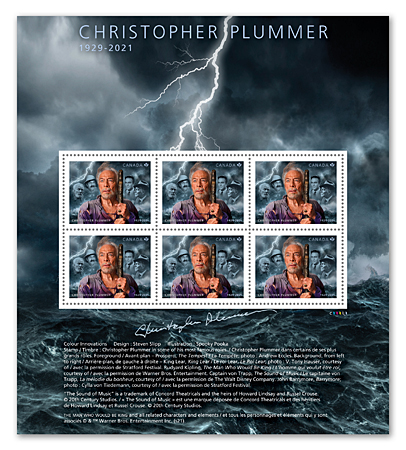 Product #: 404168107
Denomination: Permanent™ (domestic rate)
Design: Steven Slipp
Dimensions: 40 mm x 32 mm
Printer: Colour Innovations
Printing Process: Lithography in 5 colours
Quantity: 35,000
Gum Type: PVA
Shop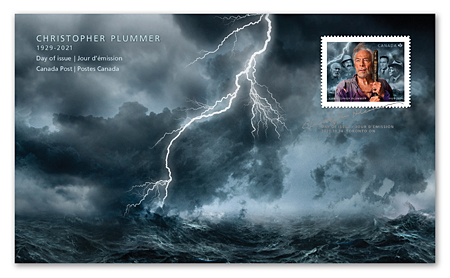 Official First Day Cover
$1.92
Product #: 414168131
Denomination: Permanent™ (domestic rate)
Design: Steven Slipp
Dimensions: 190 mm x 112 mm
Quantity: 8,000
OFDC Cancellation Location: Toronto ON
Shop