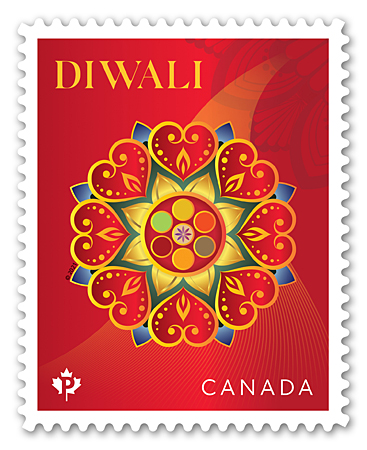 Issue date: October 19, 2021
Layers of symbolism are woven into the eye-catching Rangoli pattern on this stamp heralding the arrival of Diwali on November 4. A time to reflect, overcome negativity, and spread light and love, the five-day festival is observed by Hindus, Buddhists, Jains, Sikhs and others around the world.
Rangolis are an important part of the celebrations. Drawn on floors in entranceways, living rooms and courtyards using flower petals, coloured sand and other materials, these temporary works of art are traditionally created to invite Lakshmi, the goddess of good fortune, into celebrants' homes.
Seung Jai Paek studied hundreds of Rangolis before devising this clever concept to convey the spirit of Diwali. A lotus flower, symbolic of new beginnings, forms both the outline and inset of the Rangoli. A ring of heart-shaped lamps or diyas, commonly lit during the festival, expresses love and gratitude. In the centre, an Indian spice box called a masala dabba alludes to the food shared during Diwali. The rich golds in the design evoke a sense of wealth, while the stream of light in the background represents the gods illuminating the path to peace and prosperity.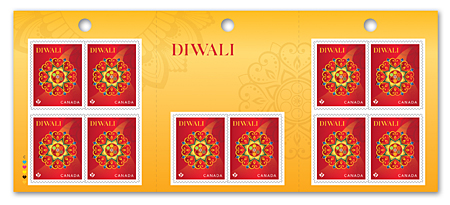 Booklet of 10 stamps
$9.20
Product #: 414173111
Denomination: Permanent™ (domestic rate)
Design: Seung Jai Paek
Dimensions: 28 mm x 35 mm
Printer: Lowe-Martin
Printing Process: Lithography in 6 colours
Quantity: 80,000
Illustration: Seung Jai Paek
Shop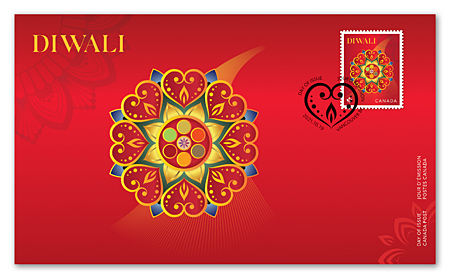 Official First Day Cover
$1.92
Product #: 414173131
Denomination: Permanent™ (domestic rate)
Design: Seung Jai Paek
Dimensions: 190 mm x 112 mm
Printer: Lowe-Martin
Quantity: 4,500
Illustration: Seung Jai Paek
OFDC Cancellation Location: Vancouver BC
Shop