Valour Road
October 21, 2021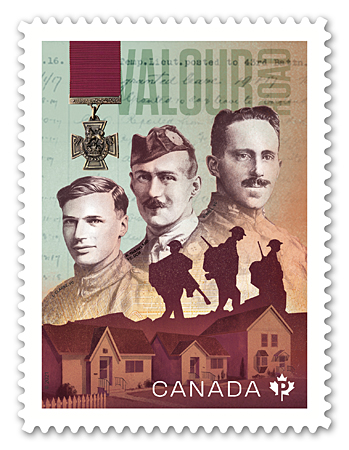 Issue date: October 21, 2021
Three Canadian First World War recipients of the seldom-awarded Victoria Cross (Britain's highest honour for bravery in combat) each lived on Winnipeg's Pine Street at some point in their lives. In recognition of the three heroes, the street was officially renamed Valour Road in 1925. A commemorative plaza erected in 2005 features a stone monument in the shape of the Victoria Cross and three steel silhouettes honouring the three soldiers.
During the Battle of the Somme, Corporal Lionel (Leo) Clarke, VC (1892-1916) and a small section of the 2nd Canadian Infantry Battalion were clearing a German trench line near the town of Pozières, France, on September 9, 1916. Every man but Clarke was killed or severely wounded while winning the heavily defended trench. He emptied his pistol and two captured rifles during a German counterattack, killing at least 16 and sending the rest fleeing. Despite being wounded, Clarke shot four more and took the last man prisoner. Promoted to sergeant, Clarke died the following month from injuries sustained by an exploding shell.
Robert Shankland, VC, DCM (1887-1968) enlisted as a private in the 43rd Canadian Infantry Battalion (Cameron Highlanders) and became a commissioned officer in 1916. On October 26, 1917, in the Battle of Passchendaele, Shankland's platoon and supporting troops won a foothold on the strategic Bellevue Spur ridge. His force reduced to a remnant, Shankland led survivors in repelling a counterattack and held the position until reinforcements secured the ridge. Shankland then made his way through shelling to headquarters and report on the Germans' position.
Frederick William Hall, VC (1885-1915) enlisted in the 8th Canadian Infantry Battalion, rising to the rank of company sergeant major. On April 24, 1915, during the Second Battle of Ypres in Belgium, Hall left the safety of a trench to rescue a wounded soldier. Heavy German machine-gun fire wounded the two other rescuers. Hall persevered, but he was fatally shot by enemy fire as he lifted the wounded man.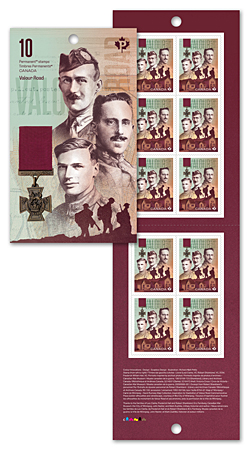 Booklet of 10 stamps
$9.20
Product #: 414174111
Denomination: Permanent™ (domestic rate)
Design: Soapbox Design
Dimensions: 30 mm x 40 mm
Printer: Colour Innovations
Printing Process: Lithography in 5 colours
Quantity: 220,000
Illustration: Richard Nalli-Petta
Shop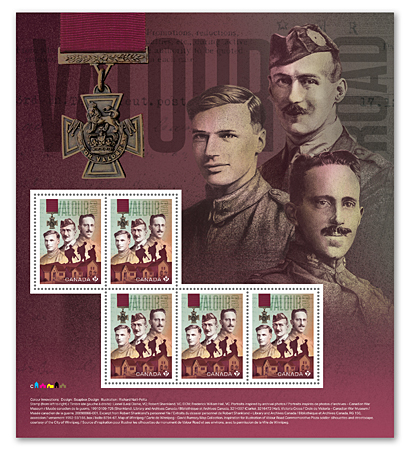 Product #: 404174107
Denomination: Permanent™ (domestic rate)
Design: Soapbox Design
Dimensions: 30 mm x 40 mm
Printer: Colour Innovations
Printing Process: Lithography in 5 colours
Quantity: 35,000
Illustration: Richard Nalli-Petta
Shop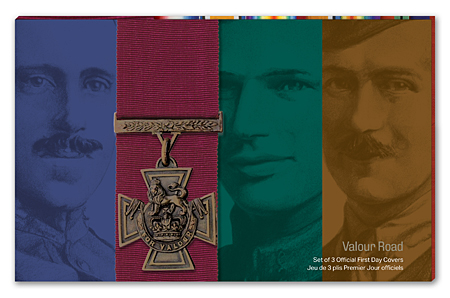 Official First Day Cover
$4.95
Product #: 414174131
Denomination: 190 mm x 112 mm
Design: Soapbox Design
Dimensions: 190 mm x 112 mm
Printer: Colour Innovations
Quantity: 8,000
Illustration: Richard Nalli-Petta
OFDC Cancellation Location: Winnipeg MB
Shop