The Remembrance Poppy
October 29, 2021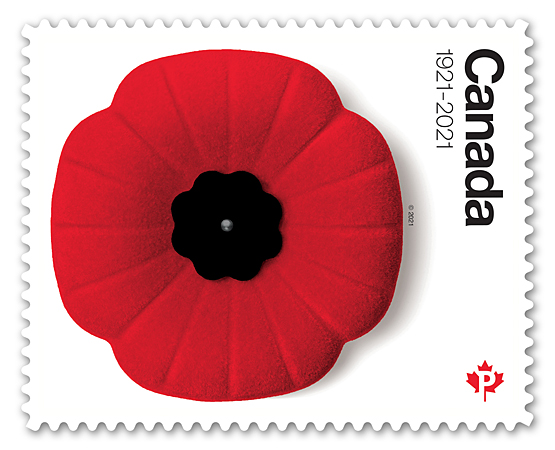 Celebrating its 100th anniversary as a symbol of remembrance in Canada, the bright red poppy that once thrived on the battlefields of Europe has become one of our most evocative and enduring emblems.
The concept behind this big, bold stamp was not only to immortalize the crimson flower itself but also to offer another way to honour the more than 117,000 Canadians who have died in service to their country.
"I envisioned packages and letters literally wearing their own poppy," says stamp designer Blair Thomson, an avid philatelist and design collector who shares both passions on his popular Instagram accounts, Graphilately and Canada Modern.
"My approach is to strip away all that's unnecessary, focusing on the purest form of visual clarity, and eliminating distraction," he explains. "To me, simple, beautiful compositions have the greatest impact, are emotionally stimulating, and resonate longer in the mind."
With the printer's help, Thomson custom-mixed ink to create an almost fluorescent red that, when printed, would match the vibrancy of The Royal Canadian Legion poppy. The stark white background gives the flower added pop, while metallic silver ink adds realism to the head of the pin.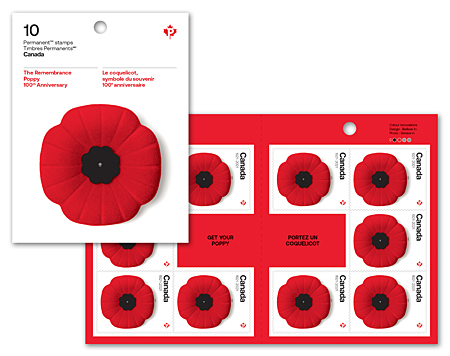 Booklet of 10 stamps
$9.20
Product #: 414175111
Denomination: Permanent™ (domestic rate)
Design: Believe in
Printer: Colour Innovations
Printing Process: Lithography in 4 colours
Quantity: 250,000
Illustration: Believe in
Shop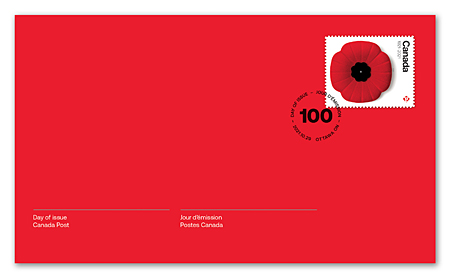 Official First Day Cover
$1.95
Product #: 414175131
Denomination: Permanent™ (domestic rate)
Design: Believe in
Dimensions: 190 mm x 112 mm
Printer: Colour Innovations
Quantity: 8,000
Illustration: Believe in
OFDC Cancellation Location: Ottawa ON
Shop