Holiday Characters
November 01, 2021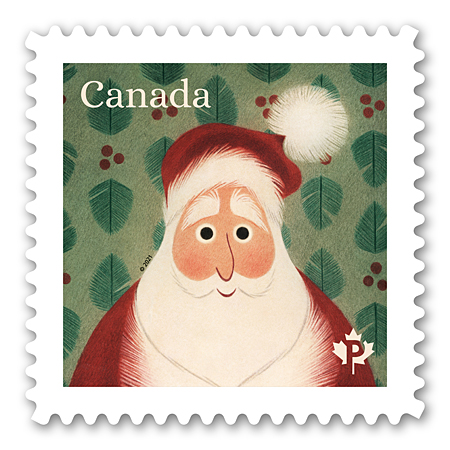 Every holiday season since 1964, Canada Post has issued festive stamps to make sending cards and letters to friends and family more fun. This year, we're inviting you to dress up your mail with some familiar holiday faces.
Designed by Larry Burke and Anna Stredulinsky of Burke & Burke, and illustrated by Geneviève Godbout, this issue features adorable, full-of-personality portraits of three classic holiday characters, Santa (Permanent™ domestic rate), a reindeer (U.S. rate) and an elf (international rate). Domestic rate stamps are available in booklets of 12, with the U.S. and international rate stamps available in booklets of six. A festive souvenir sheet that brings together all three characters is also part of the issue, along with a souvenir sheet Official First Day Cover, cancelled in Noëlville, Ontario.
European folklore and traditions have long included winter-season figures of gift-giving, including the medieval Saint Nicholas, German Pelznickel (or Belsnickel) and Italian Befana. Santa Claus came to us through a melding of such legends, as popularized in 19th-century poems and illustrations. Possibly inspired by Norse and Germanic myths, the reindeer first appeared as a single flying wonder in an 1821 illustrated poem, "The Children's Friend," followed two years later by the eight that St. Nick called out by name in Account of a Visit from St. Nicholas (also known as The Night Before Christmas). Elves with magical powers are mentioned in Germanic, British and Scandinavian folklore, and beliefs in their ability to help (or hinder) people were common. They joined Santa's workforce in the 1850s and have been (helpfully) making toys ever since.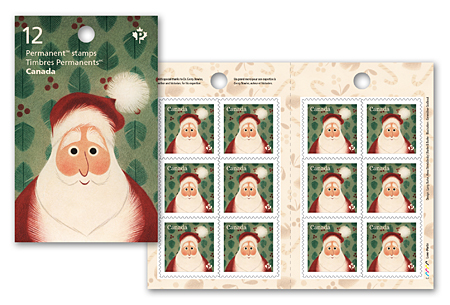 Carnet de 12 timbres
$11.04
Product #: 114177
Denomination: Permanent™ (domestic rate)
Design: Larry Burke, Anna Stredulinsky | Burke & Burke
Dimensions: 24 mm x 24 mm
Printer: Lowe-Martin
Printing Process: Lithography in 4 colours
Quantity: 1,300,000
Illustration: Geneviève Godbout
Shop