Buffy Sainte-Marie
November 19, 2021
Intensely passionate about her craft and convictions, singer-songwriter Buffy Sainte-Marie, C.C., turned to music not only for fun but also as a powerful way to make change.
"I'm musically dyslexic and unable to learn notation," she says, "but from the age of three I've made music naturally at home, by ear, without teachers, just for the joy of it."
Sainte-Marie was raised by adoptive parents in New England and was probably born at the Piapot First Nation in Saskatchewan. Subjected to racism and abuse when she was young, she became an outspoken activist for Indigenous rights and an unwavering voice for the oppressed.
Graduating from college in the early 1960s, she began playing at coffee houses and folk festivals, quickly distinguishing herself with her vibrato vocals, emotional delivery and fearless lyrics. Like the artist herself, her music has constantly evolved – blending and transcending genres.
Still performing at age 80, Sainte-Marie has more than 20 albums and countless awards to her name. But she cares most about her philanthropic efforts – among them the Cradleboard Teaching Project, which has developed a curriculum that teaches core subjects such as science, government and geography through Indigenous eyes.
"If there's one more thing I'd like to accomplish," she says, "It's seeing that initiative working full bloom across Canada."
Made in the image of the Creator: that's us. Creative and always evolving, mutating, developing, growing.
Buffy Sainte-Marie
Booklet of 10 stamps
$9.20
Product #: 414172111
Denomination: Permanent™ (domestic rate)
Design: Paprika
Stamps: Simon Fowler Photography
Dimensions: 28 mm x 38 mm
Printer: Lowe-Martin
Printing Process: Lithography in 5 colours
Quantity: 180,000
Shop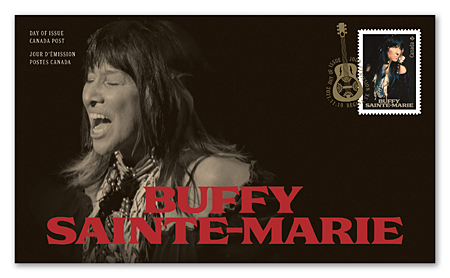 Product #: 414172131
Denomination: Permanent™ (domestic rate)
Design: Paprika
Stamps: Simon Fowler Photography
Dimensions: 190 mm x 112 mm
Printer: Lowe-Martin
Quantity: 8,000
OFDC Cancellation Location: Regina SK
Shop