Eleanor Collins
January 21, 2022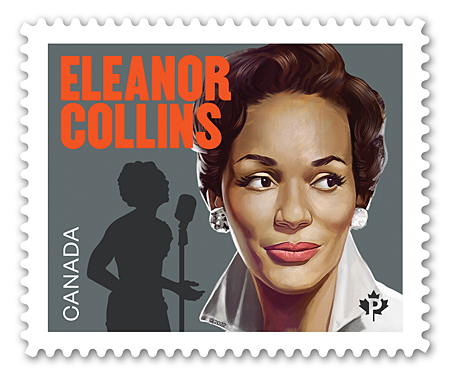 Canada's first lady of jazz, Eleanor Collins, c.m., has led a storied life. Still vibrant at 102, the Vancouver-based singer broke new ground in her genre and quietly confronted racial prejudice through her community service.
"I encouraged students in music education; I belonged to the PTA and church choir; I sang at the children's hospital, in provincial prisons, and to help support charities and civic organizations," she remembers. "It was my hope that I could help bridge the perceived differences that divide people."
The daughter of African American homesteaders who immigrated to Edmonton, Alberta, Collins began singing at home and in the Baptist church.
"In my youth of the 1920s, we were all living separate lives of survival and despair as we tried to navigate an often hostile world," she says. "Coming together to create a vocally harmonic blend brought us much joy and allowed us to forget the challenges and stresses of our lives."
Discovered at age 15 after winning a local talent contest, Collins went on to enjoy a decades-long career. She performed alongside some of Canada's top musicians at clubs and concert venues and on radio and TV from the 1940s to 1980s.
She made her television debut in 1954 on Canada's first television variety show to feature a mixed-race cast: CBC Vancouver's Bamboula: A Day in the West Indies. The following year, she became Canada's first female jazz artist to host a national television series, The Eleanor Show – and, nearly 10 years later, headlined her second series, Eleanor.
Reflecting on her longevity, Collins says, "I am grateful to be alive in this new age; for the quality of life I have somehow been able to maintain; for the lovely acknowledgements of my life and work; and for everyone who has been a part of my journey. It has all been a real blessing."
In our home, she always put family first, and there was really little talk of her professional life. But you could definitely say there was a soundtrack to our lives.
- Judith Maxie, speaking of her mother, Eleanor Collins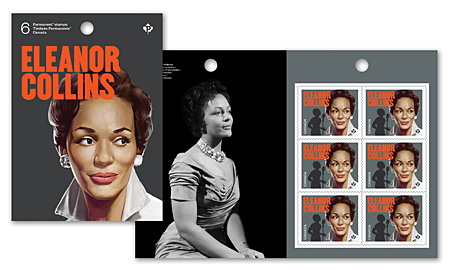 Booklet of 6 stamps
$5.52
Product #: 414181111
Denomination: 1 x PermanentTM (domestic rate)
Design: Paprika
Dimensions: 34 mm (W) x 28 mm (H)
Printer: Lowe-Martin
Printing Process: Lithography in 5 colours
Quantity: 150,000
Illustration: David Belliveau, illustrations based on photos – Franz Lindner | CBC Still Photo Collection
Tagging: 4 sides
Photography: Illustrations based on photos: Franz Lindner | CBC Still Photo Collection
Shop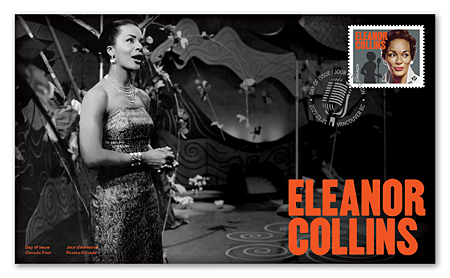 Official First Day Cover
$1.92
Product #: 414181131
Denomination: 1 x PermanentTM (domestic rate)
Design: Paprika
Dimensions: 190 mm (W) x 112 mm (H)
Printer: Lowe-Martin
Quantity: 7,000
Illustration: David Belliveau, illustrations based on photos – Franz Lindner | CBC Still Photo Collection
Photography: RECTO : Alvin Armstrong | CBC Still Photo Collection VERSO : Franz Lindner | CBC Still Photo Collection
OFDC Cancellation Location: Vancouver BC
Shop