Platinum Jubilee of Her Majesty Queen Elizabeth II
This stamp commemorates the 70th year of her reign.
February 07, 2022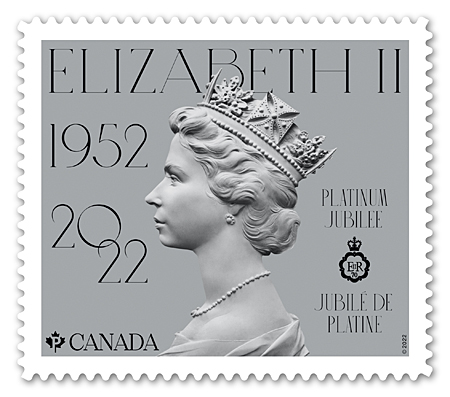 This year marks Her Majesty Queen Elizabeth II's 70th anniversary as sovereign – and platinum jubilee celebrations will be held in Commonwealth countries around the globe. On February 6, 1952, the then-princess was just 25 years old, and the mother of two young children with her naval husband, The Duke of Edinburgh, when she ascended the throne on the death of her father, King George VI. Queen Elizabeth II is Canada's longest reigning sovereign, a distinction she achieved in September 2015. In October 2016, she also became the world's longest-reigning living monarch.
The Queen has appeared on more than 70 Canadian stamps over the past seven decades, as well as four stamps when she was Princess Elizabeth. This year's stamp features the Royal Mail's classic "Machin" sculpted profile of The Queen, created by Arnold Machin, o.b.e., r.a., for a definitive stamp first issued in 1967 and used on British stamps ever since. According to Robin Harris, an Elizabethan philatelist and editor of Unitrade's Specialized Catalogue of Canadian Stamps, The Canadian Philatelist and the Corgi Times (collector newsletter):
The United Kingdom's iconic Machin series of stamps is the largest definitive series ever produced, even 55 years after the first stamp was issued. New values required for postal rate increases, along with myriad colours and other printing differences, have resulted in more than 2,000 different specimens for both novice and specialist collectors. One of Machin's portraits was also used on the obverse of Canadian coins from 1965 to 1989.
This is the first time Machin's profile of The Queen has appeared on a Canadian stamp.
The Canadian platinum jubilee emblem was created by the Canadian Heraldic Authority and drawn by Cathy Bursey-Sabourin, Fraser Herald.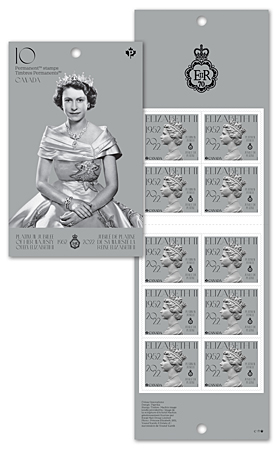 Booklet of 10 stamps
$9.20
Product #: 414186111
Denomination: PermanentTM (domestic rate)
Design: Paprika
Dimensions: 40 mm x 35 mm
Printer: Colour Innovations
Printing Process: Lithography in 2 colours
Quantity: 600,000
Shop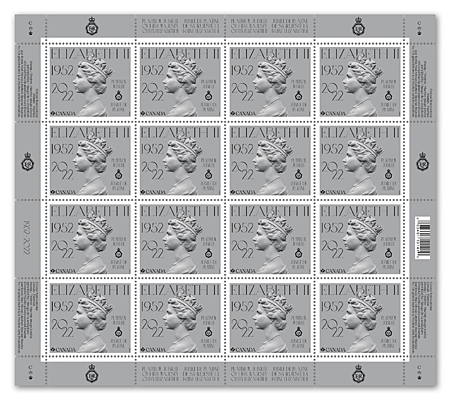 Product #: 404186107
Denomination: Permanent™ (domestic rate)
Design: Paprika
Dimensions: 40 mm x 35 mm
Printer: Lithography in 2 colours
Printing Process: Colour Innovations
Quantity: 40,000
Gum Type: PVA
Photography: Stamp – Machin image kindly provided by Royal Mail Group Limited. Special thanks to Machin Arts Foundation.
Shop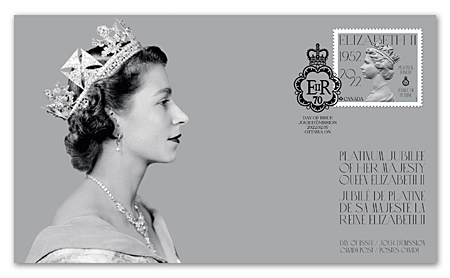 Official First Day Cover
$1.92
Product #: 414186131
Denomination: Permanent™ (domestic rate)
Design: Paprika
Dimensions: 190 mm x 112 mm
Printer: Colour Innovations
Printing Process: Lthography in 2 colours
Quantity: 8,000
Photography: Dorothy Wilding, 1952, © National Portrait Gallery, London, U.K., NPG x37851
OFDC Cancellation Location: Ottawa ON
Shop