Organ and Tissue Donation
April 07, 2022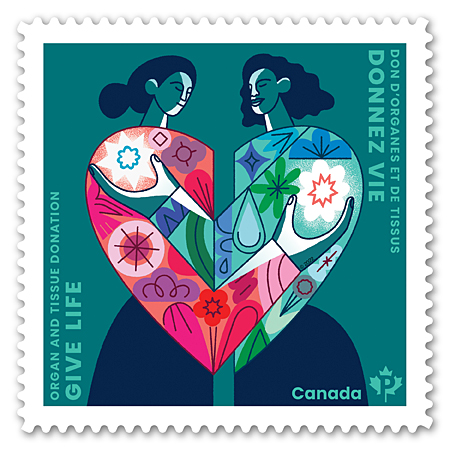 On April 6, 2018, Canadians across the country were horrified to learn of the Humboldt Broncos hockey team bus crash in Saskatchewan that ended the lives of 16 people and injured 13 others. Defenceman Logan Boulet succumbed to his injuries the following day. Knowing their son had registered as an organ donor, his parents donated his organs, which saved six lives. Logan had been inspired by his coach and mentor Ric Suggitt, who passed away in mid-2017 and also saved six lives as a donor. In 2019, April 7 became known as Green Shirt Day to honour the victims of the bus crash and raise awareness of organ donation.
Designed by Kristine Do and illustrated by Chris DeLorenzo, the stamp imagery symbolizes the connection between a donor and a recipient and denotes a sense of giving, connection, compassion, hope and life.
Right now, more than 4,400 Canadians are waiting for a donation of a life-saving organ and many more for healthy tissue to recover from a potentially fatal illness and move on with their lives. With this stamp issue, we honour those donors who have saved or improved lives – and encourage Canadians to register as an organ and tissue donor and "give life."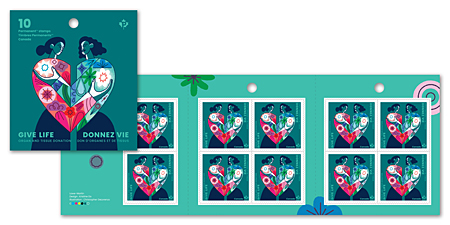 Product #: 414183111
Denomination: Permanent™ (domestic rate)
Design: Kristine Do
Dimensions: 36 mm x 36 mm
Printer: Lowe-Martin
Printing Process: Lithography in 6 colours and spot gloss varnish
Quantity: 140000
Illustration: Chris DeLorenzo
Tagging: 4-sides
Shop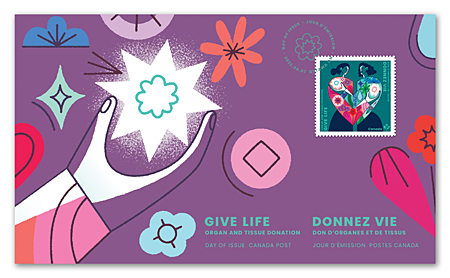 Product #: 414183131
Denomination: Permanent™ (domestic rate)
Design: Kristine Do
Dimensions: 190 mm x 112 mm
Printer: Lowe-Martin
Printing Process: Cancellation site: Ottawa ON
Quantity: 7500
Illustration: Chris DeLorenzo
Shop