Vintage Travel Posters
June 09, 2022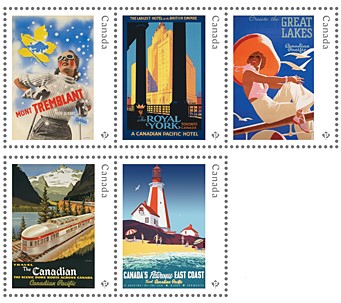 Eye-catching and elegant, travel posters produced by companies such as the Canadian Pacific Railway beckoned visitors to explore Canada's wild beauty and urban attractions in the early 20th century. The five featured on these stamps recall what was a golden age of commercial art in this country.
Mont Tremblant (1939) promoted the excitement of skiing at Quebec's new resort, built by American explorer and entrepreneur Joseph Bondurant Ryan just two years after he first climbed the peak. The poster was designed by Austrian-born artist Herbert Bayer, who taught at Germany's prestigious Bauhaus school of design before working as a painter and graphic designer in the United States.
The Royal York (circa 1935) was just one of many travel posters designed by Norman Fraser, who was considered Canadian Pacific's most prolific poster artist. Viewed from behind the columns at Union Station, the stately, 28-storey Canadian Pacific hotel (now the Fairmont Royal York) was the tallest building in Toronto and the largest hotel in the British Empire when it opened its doors in June 1929.
The breezy glamour of pleasure cruising on the world's largest group of freshwater lakes was the focus of Cruise the Great Lakes (circa 1937), created after the work of British designer Tom Purvis. Companies such as Canadian Pacific offered multi-day outings as a way for vacationers to relax and visit various destinations along their route.
Travel The Canadian (1955) – by Montréal-born artist Roger Couillard – captured the luxury and spectacular scenery that awaited passengers aboard the Canadian Pacific's famous transcontinental train. Pictured winding its way through the Rocky Mountains, The Canadian offered panoramic views from its innovative, glass-domed observation cars.
Canada's Picturesque East Coast (circa 1950) was designed by Saskatchewan-born Peter Ewart, who worked as a poster artist for Canadian Pacific and was also a painter and sculptor. Aimed at drawing tourists to the east coast, it highlighted three seaside destinations: Saint Andrews (also known as St. Andrews by-the-Sea), New Brunswick; Digby, Nova Scotia; and Yarmouth, Nova Scotia. Featured on the poster is the original Cape Forchu Lighthouse, which was in service for more than 120 years.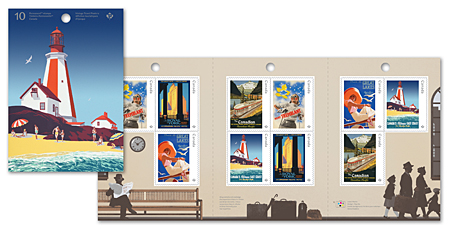 Product #: 414143111
Denomination: 5 x Permanent™ (domestic rate)
Design: Paprika
Dimensions: 32 mm x 40 mm
Printer: Lowe-Martin
Printing Process: Lithography in 6 colours
Quantity: 250,000
Illustration: Gérard DuBois
Shop