Indigenous Leaders
June 30, 2022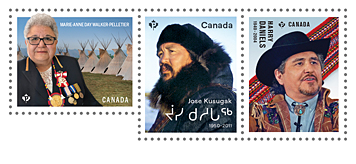 Proud advocates for the rights and well-being of their people, the three modern-day Indigenous leaders in this inaugural series are honoured for dedicating their lives to preserving Métis, First Nations and Inuit culture and improving the quality of life of Indigenous Peoples in Canada.
Known for his quick wit and joie de vivre, Harry Daniels (1940-2004) was a force to be reckoned with. The politician, activist, writer and actor from Regina Beach, Saskatchewan, successfully led an effort to have the Métis included as one of the Indigenous Peoples recognized in the Constitution Act, 1982, and as Indians under the British North America Act, 1867, placing them under federal jurisdiction. The photo on the stamp, taken at a press conference in 1998, shows Daniels in his trademark Métis bison-hunting hat. In the background is the Métis sash that was presented at his funeral by the Métis National Council.
Marie-Anne Day Walker-Pelletier (b. 1954, in Regina, Saskatchewan) spent nearly 40 years as leader of the Okanese First Nation – a small community near Fort Qu'Appelle, Saskatchewan – the most consecutive terms ever served by an elected First Nations chief in Canada. A residential school survivor, she made women and children a focus of her efforts and was part of the Indigenous delegation that met with Pope Francis in early 2022. Her stamp features a photo taken by her daughter at a ceremony celebrating her appointment to the Order of Canada; the background is of ceremonial teepees on Treaty 4 territory.
Jose Kusugak (1950-2011) is considered a Father of Confederation by some for his pivotal role in the creation of Nunavut. Born in Repulse Bay, Northwest Territories (now Naujaat, Nunavut), he attended residential school and later worked as a teacher, linguist, award-winning broadcaster and head of several major Inuit organizations. He was involved in developing a standardized, dual writing system for Inuktitut and explained the land claim concept to communities across the Arctic – coining the phrase "First Canadians, Canadians First" to describe his people. He is pictured on his stamp, along with his name written in Inuktitut.
The stamps were designed by Lara Minja of Lime Design (Day Walker-Pelletier, Daniels) and Andrew Perro (Kusugak).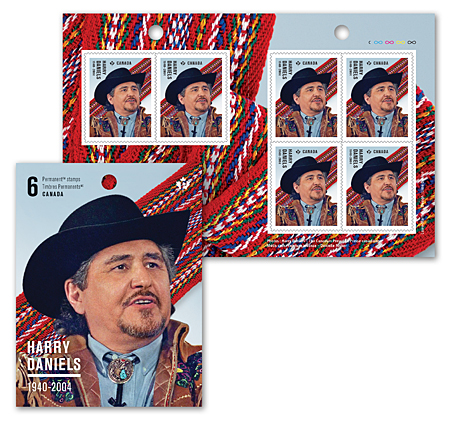 Booklet of 6 stamps: Harry Daniels
$5.52
Product #: 414188111
Denomination: 1 x Permanent™ (domestic rate)
Design: Lime Design
Dimensions: Flat: 168mm x 110mm / Folded 84mm x 110mm
Printer: Lowe-Martin
Printing Process: Lithography in 4 colours
Quantity: 100,000
Illustration: N/A
Tagging: 4 sides
Photography: Photos : Harry Daniels – The Canadian Press; Métis sash – Danielle Tocker
Shop