Help for Ukraine
July 05, 2022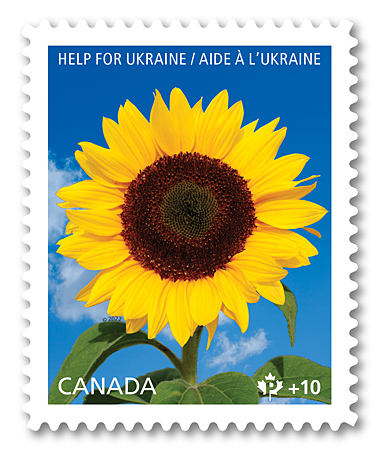 Recognizing the generosity of Canadians in times of need, Canada Post has issued a semi-postal fundraising stamp to offer our customers and collectors an opportunity to support those impacted by the Russian invasion of Ukraine. Funds raised through the purchase of this stamp will be distributed through the Canada-Ukraine Foundation. A donation of $1 from each booklet of 10 stamps (and 10 cents from each Official First Day Cover) will provide much needed financial assistance to those affected by the situation.
Canada and Ukraine share a historic bond. The first wave of Ukrainian immigrants began to arrive in the 1890s, and Canada was the first Western country to recognize Ukraine's independence in 1991. Today, nearly 4% of Canadians can trace their roots to Ukraine.
The sunflower, the national flower of Ukraine, has now become a widely recognized symbol of peace and unity and is a fitting image for this special stamp. The bright yellow flower can be seen throughout Ukraine, including as adornment in the vinok, the traditional floral headdress. The colourful stamp, originally issued in 2011, was designed and photographed by Isabelle Toussaint Design graphique. The new booklet and Official First Day Cover were designed by Hélène L'Heureux.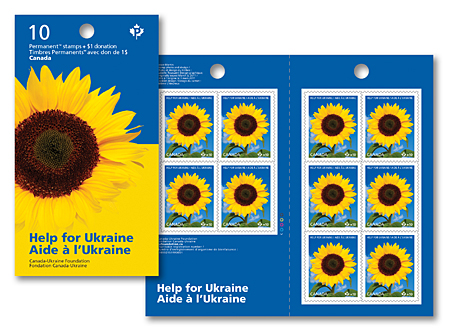 Booklet of 10 stamps
$10.20
Product #: 414209111
Denomination: Permanent™ (domestic rate) + 10¢ donation
Design: Stamp photo and design: Isabelle Toussaint Design graphique; originally issued March 3, 2011 Booklet design: Hélène L'Heureux
Dimensions: 26 mm (Wide) X 32 mm (High)
Printer: Lowe-Martin
Printing Process: Lithography in 4 colours
Quantity: 500,000
Tagging: 4 sides
Photography: Isabelle Toussaint Design graphique
Shop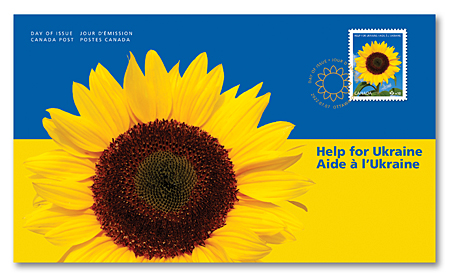 Official First Day Cover
$2.02
Product #: 414209131
Denomination: Permanent™ (domestic rate) + 10¢ donation
Design: Stamp photo and design: Isabelle Toussaint Design graphique; originally issued March 3, 2011 Booklet design: Hélène L'Heureux
Dimensions: 190 mm x 112 mm
Printer: Lowe-Martin
Quantity: 7,000
Tagging: 4 sides
Photography: Isabelle Toussaint Design graphique
OFDC Cancellation Location: Ottawa ON
Shop