Vintage Carousels
July 05, 2022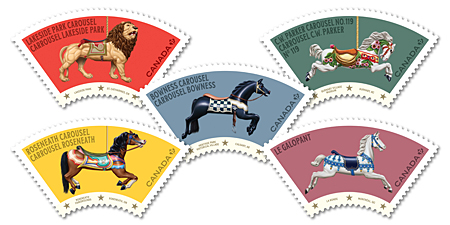 Can you smell the cotton candy? Do you hear the barkers in the midway daring you to test your game skills? This five-stamp issue featuring vintage carousels from across Canada is designed to bring you back to the summer fun of your youth.
From their origins as a military training game in the 12th century, carousels had evolved by the mid-19th century to the mechanically powered fairground ride we still enjoy today. The five carousels featured, with their elaborately carved and painted animals and cheery band organ music, demonstrate both high artisan craftsmanship and impressive technological advances for their era.
The Lakeside Park Carousel, residing at Lakeside Park, in St. Catharines, Ontario, since 1921, still costs only a nickel to ride.
A rare three-row track machine, the Bowness Carousel arrived at the Heritage Park Historical Village, in Calgary, Alberta, in 1969.
Arriving in Canada in 1936, the C.W. Parker Carousel No. 119 has been a popular attraction at the Burnaby Village Museum, in Burnaby, British Columbia, since 1993.
The only Canadian carousel to receive the National Carousel Association Historic Carousel Award (in 2010), the Roseneath Carousel has been the pride of the Roseneath Fairgrounds, in Roseneath, Ontario, since 1932.
Le Galopant has been entertaining guests at La Ronde amusement park in Montréal, Quebec, since 2007. Originally powered by steam, the late 19th-century Belgian carousel first arrived in Canada to be part of Expo 67.
The issue was designed by Paprika and illustrated by René Milot in a whimsical style reminiscent of turn-of-the-century carnival and circus posters.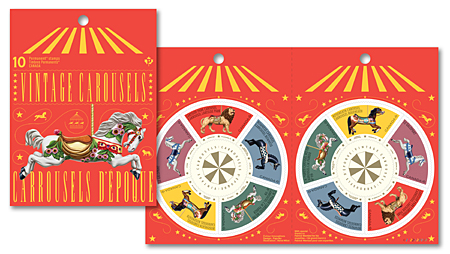 Booklet of 10 stamps
$9.20
Product #: 414192111
Denomination: 5 x Permanent™ (domestic rate)
Design: Paprika
Dimensions: 50.5 mm (W) x 28.3 (H)
Printer: Colour Innovations
Printing Process: Lithography in 10 colours
Quantity: 250,000
Gum Type: PVA
Illustration: René Milot
Tagging: 3 sides
Shop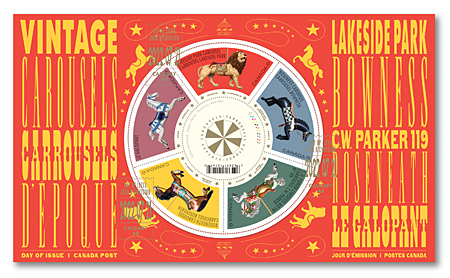 Souvenir Sheet Official First Day Cover
$5.60
Product #: 404192144
Denomination: 5 x Permanent™ (domestic rate)
Design: Paprika
Dimensions: 190 mm x 112 mm
Printer: Colour Innovations
Quantity: 7,000
Gum Type: PVA
Illustration: René Milot
Tagging: 3 sides
OFDC Cancellation Location: Calgary AB
Shop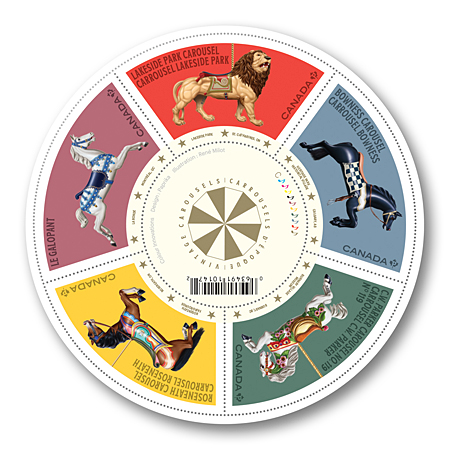 Product #: 404192145
Denomination: 5 x Permanent™ (domestic rate)
Design: Paprika
Dimensions: 90 mm diameter
Printer: Colour Innovations
Printing Process: Lithography in 10 colours
Quantity: 70,000
Gum Type: PVA
Illustration: René Milot
Tagging: 3 sides
Shop