The Summit Series, 1972
September 06, 2022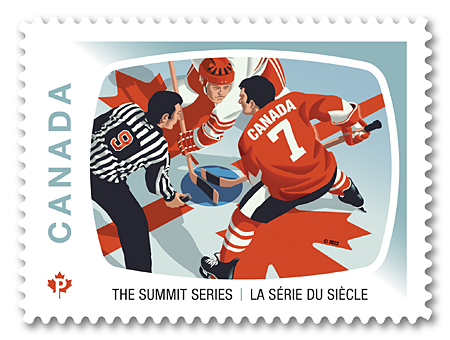 Where were you on Thursday, September 28, 1972? If like many Canadians, you were glued to a television or radio in your home, office or school – and lent your voice to a cheer that reverberated around the country when Team Canada defeated the Soviet national hockey team in Game 8 of the famed hockey series, breaking the tie score in the final moments of the third period.
Marking the first time that the USSR squad and a Canadian team (of professional hockey players) competed in international play, the Summit Series, as it came to be known, roused strong feelings of patriotism and national pride. Even five decades later, fans haven't forgotten that nail-biting moment in the final game of the series when – with only 34 seconds left on the clock – the winning goal slid into the net.
Designed by Jim Ryce, with illustration by Gary Alphonso, the stamp was inspired by a face-off between Phil Esposito (#7) and a Soviet player in Game 3 at the Winnipeg Arena, September 6, 1972. The 1970s-style television frame evokes nostalgia for the shared experience of watching the Canadian team prove themselves on the world stage.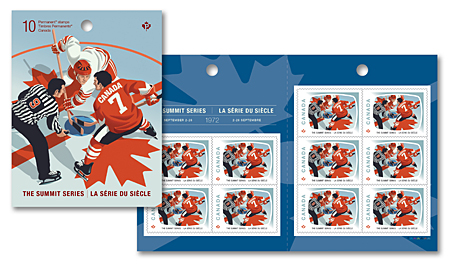 Booklet of 10 stamps
$9.20
Product #: 414216111
Denomination: Permanent™ (domestic rate)
Design: Jim Ryce
Dimensions: 38 mm x 28 mm
Printer: Lowe-Martin
Printing Process: Lithography in 5 colours
Quantity: 300,000
Illustration: Gary Alphonso
Shop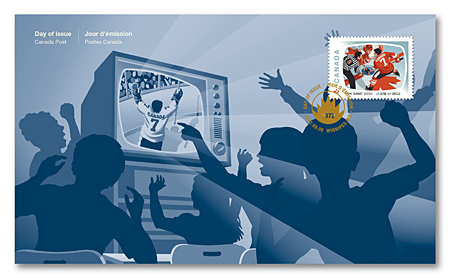 Official First Day Cover
$1.92
Product #: 414216131
Denomination: Permanent™ (domestic rate)
Design: Jim Ryce
Dimensions: 190 mm x 112 mm
Printer: Lowe-Martin
Quantity: 10,000
Illustration: Gary Alphonso
OFDC Cancellation Location: Winnipeg MB
Shop