Canada Post Community Foundation
September 19, 2022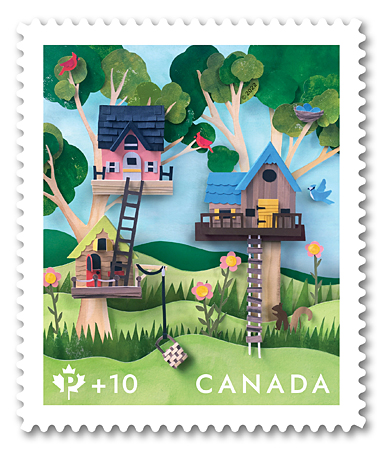 Once again, Canada Post invites Canadians to contribute to programs for children and youth through this year's 11th Canada Post Community Foundation semi-postal fundraising stamp.
Designed by Chad Roberts Design and illustrated by Joanna Todd, the stamp's colourful treehouses inspire imagination, offer a place for make-believe play and provide a setting in which to dream. The treehouse symbolizes our belief that creating spaces – literal, virtual and figurative – where children can play, dream and thrive is of vital importance. And it's the reason the Canada Post Community Foundation exists.
A $1 surcharge from the sale of each booklet of 10 stamps, or an extra 10 cents from the sale of each Official First Day Cover, goes directly to the Foundation to help fund local and national non-profit groups that serve the needs of children and youth. Since 2012, the Canada Post Community Foundation has supported more than 1,000 community organizations that bring positive change to Canadian children.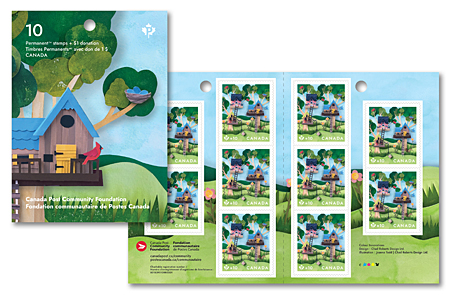 Booklet of 10 stamps
$10.20
Product #: 414193111
Denomination: Permanent™ (domestic rate) + 10¢ donation
Design: Chad Roberts
Dimensions: 38 mm x 32 mm
Printer: Colour Innovations
Printing Process: Lithography in 4 colours
Quantity: 220,000
Illustration: Joanne Todd | Chad Roberts Design Ltd.
Shop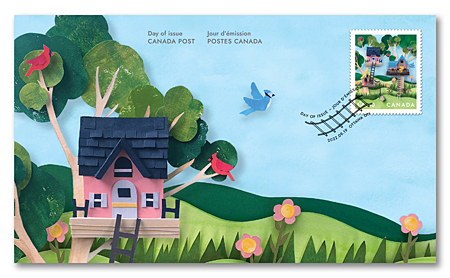 Official First Day Cover
$2.02
Product #: 414193131
Denomination: Permanent™ (domestic rate) + 10¢ donation
Design: Chad Roberts
Dimensions: 190 mm x 112 mm
Printer: Colour Innovations
Quantity: 7,000
Illustration: Joanne Todd | Chad Roberts Design Ltd.
OFDC Cancellation Location: Ottawa ON
Shop