Truth and Reconciliation
September 29, 2022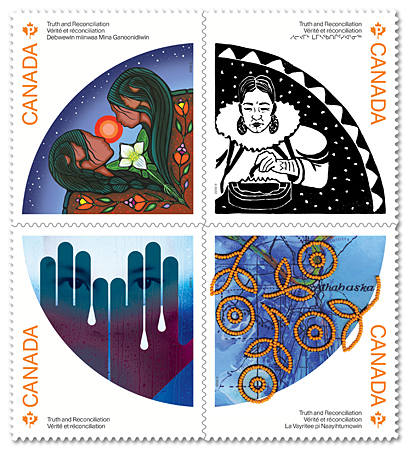 Released on the day prior to September 30, the National Day for Truth and Reconciliation, this stamp issue is the first in a series showcasing the visions of Inuit, Métis and First Nations artists for the future of truth and reconciliation, with the hope of encouraging awareness of and reflection on the effects of colonization on Indigenous Peoples and the work of the truth and reconciliation process.
First Nations, Inuit and Métis children were forced to attend federally created Indian residential schools, which operated for nearly a century and a half. More than 150,000 children were taken from their families and communities, many never to return home.
The illustration by First Nations artist Jackie Traverse, centred on the bunchberry, a flowering plant found across Canada, represents seeds of change, reminding us that for bountiful future harvests, we must share the sun, water and land.
Inuit artist Gayle Uyagaqi Kabloona features a woman lighting a qulliq, the traditional Inuit stone lamp, to signify care and healing for all Indigenous communities.
Métis artist Kim Gullion Stewart places beaded flowers over the contour lines of a map as a reminder of the need to live symbiotically with the land, nature and each other.
Canadian designer Blair Thomson offers two perspectives – the trauma and pain endured by Indigenous Peoples and the settlers' shame and acknowledgement of this truth. An Indigenous child looks out from behind the hands to reinforce the message that we must never look away again.
The stamps also include the words "Truth and Reconciliation" in the traditional languages and regional dialects of the three artists, respectively Anishinaabemowin, Saulteaux dialect; Inuktitut, Kivalliq dialect and Heritage Michif.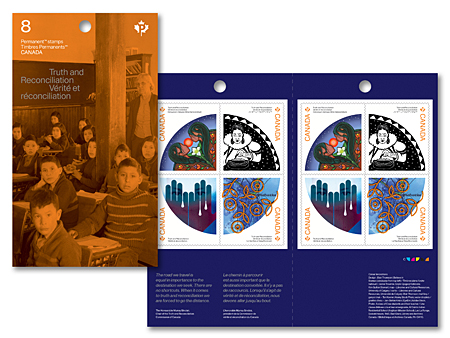 Booklet of 8 stamps
$7.36
Product #: 414194111
Denomination: 4 x PermanentTM (domestic rate)
Design: Blair Thomson | Believe in
Dimensions: 36mm (W) x 40mm(H)
Printer: Lithography in 5 colours
Printing Process: Colour Innovations
Quantity: 200,000
Illustration: Stamps (clockwise from top left): Jackie Traverse. Gayle Uyagaqi Kabloona. Kim Gullion Stewart; map – Libraries and Cultural Resources, University of Calgary. Blair Thomson; Inuit boy
Tagging: 4sides
Photography: A class of Cree students and their teacher, All Saints Indian Residential School (Anglican Mission School), Lac La Ronge, Saskatchewan, 1945. Bud Glunz, Library and Archives Canada, PA-134110.
Shop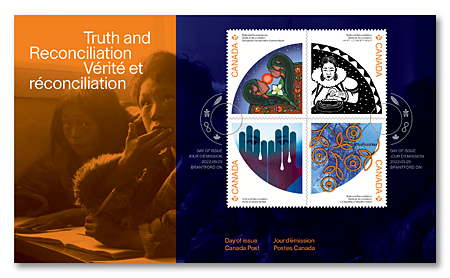 Official First Day Cover
$4.68
Product #: 414194131
Denomination: 4 x PermanentTM (domestic rate)
Design: Blair Thomson | Believe in
Dimensions: 190 mm x 112 mm
Printer: Colour Innovations
Printing Process: Lithography in 5 colours
Quantity: 7,000
Illustration: Stamps (clockwise from top left): Jackie Traverse. Gayle Uyagaqi Kabloona. Kim Gullion Stewart; map – Libraries and Cultural Resources, University of Calgary. Blair Thomson; Inuit boy
Tagging: 4-sides
Photography: A class of Cree students and their teacher, All Saints Indian Residential School (Anglican Mission School), Lac La Ronge, Saskatchewan, 1945. Bud Glunz, Library and Archives Canada, PA-134110.
OFDC Cancellation Location: Brantford ON
Shop