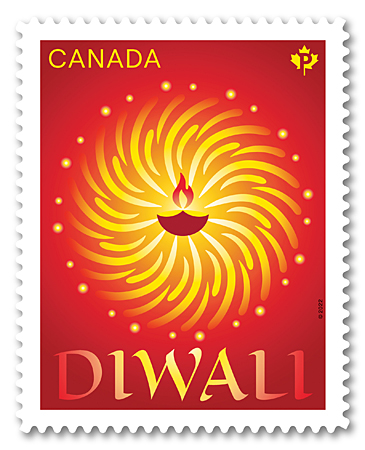 Two luminous traditions central to the celebration of the triumph of light over darkness are artfully married in the design of this year's stamp marking the arrival of Diwali. An important holiday observed by many Hindus, Buddhists, Jains, Sikhs and others, the festival takes place this year on October 24.
One of the many tales surrounding the origins of Diwali relates to the diya (small clay lamp) at the heart of the design. According to an ancient legend, when the venerable Prince Rama and his wife, Sita, returned home from exile, jubilant villagers illuminated their path with dīpāvali (rows of diyas), from which the word Diwali is derived. To this day, rows of lamps, candles and lights burn in homes and temples during the festival.
The burst of fireworks surrounding the diya on the stamp represents the pyrotechnics that light up the night sky during Diwali, in celebration of hope and defiance of darkness. As Paprika designer and illustrator Arthur Grivel explains, integrating the two sources of light made it possible to cast their unified radiance on the typography and background of the stamp. Fluorescent ink intensifies its colour and gives it a glowing appearance when exposed to black light.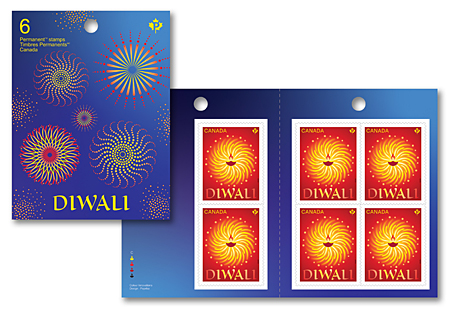 Booklet of 6 stamps
$5.52
Product #: 414195111
Denomination: 1 x PermanentTM (domestic rate)
Design: Paprika
Dimensions: 32 mm (W) x40mm (H)
Printer: Colour Innovations
Printing Process: Lithography in 4 colours
Quantity: 100,000
Tagging: 4 side
Shop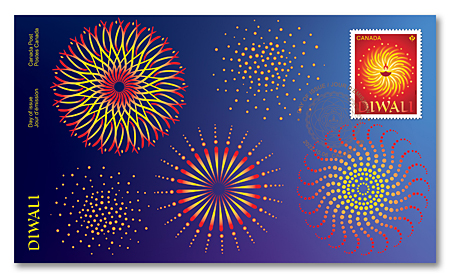 Official First Day Cover
$1.92
Product #: 414195131
Denomination: 1 x PermanentTM (domestic rate)
Dimensions: 190 mm x 112 mm
Quantity: 4,500
OFDC Cancellation Location: Calgary AB
Shop