Canadians in Flight
October 17, 2022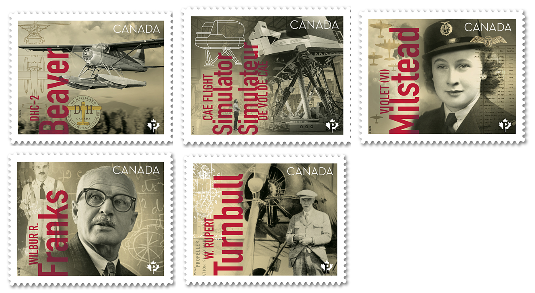 Ready for take-off on its return trip, the second edition of Canadians in Flight once again celebrates the people, planes and technologies that have allowed Canada's reputation for innovation to soar. Since the early days of flight, Canadians have made global advances in the fields of aviation and aeronautics, with some contributions remaining the foundation for ongoing advancement in these fields.
One of Canada's first female bush pilots, Toronto-born Violet (Vi) Milstead (1919-2014) earned her private pilot's licence in 1939, followed by her commercial licence and instructor's rating, and taught at Toronto's Barker Field. During the Second World War, she joined Britain's Air Transport Auxiliary, ferrying military aircraft – everything from single-engined fighters to large multi-engined bombers – between the factories and frontline squadrons. After the war, she married and moved to Sudbury, instructing and flying as a bush pilot.
The de Havilland Canada DHC-2 Beaver made its first flight on August 16, 1947, and by the time production ended in 1968, the company had produced 1,692 of the bush planes, delivered to 62 countries. With its short take-off and landing capability, flexibility to be fitted with wheels, floats or skis, and ability to carry up to nine passengers or bulk cargo, the Beaver is considered the best bush plane ever built. The Engineering Centennial Board named it one of Canada's top ten engineering achievements of the 20th century.
Pilots around the world can thank Canadian flight-simulator technology for their highly specialized training. Former Royal Canadian Air Force officer Kenneth Patrick (1915-2002) brought the technology to Canada through CAE Inc. (then Canadian Aviation Electronics Ltd.) – the company he founded in 1947. CAE built its first flight simulator in the early 1950s and by the early 1980s had developed a flight simulator so realistic that it was no longer necessary for all flight training to be completed on an actual aircraft.
Born in Saint John, New Brunswick, pioneering aeronautical engineer Wallace Rupert Turnbull (1870-1954) built Canada's first wind tunnel in 1902 and spent the next decade researching aircraft stability and airfoils and experimenting with lift devices, internal combustion engines, turbines and hydroplanes. His most notable achievement, the variable pitch propeller, allowed pilots to adjust the pitch, or angle, of the propeller blades in flight, improving the efficiency of the propeller and the aircraft. His influence can still be seen on modern propeller-driven aircraft.
Born in Weston, Ontario, Dr. Wilbur Rounding Franks (1901-86) was conducting cancer research at the University of Toronto in 1939 when he joined Dr. Frederick Banting's aviation medicine research team to study the life-threatening risks of high-speed aerial manoeuvres due to strong gravitational (G) forces. Franks developed – and personally tested – a rubber flying suit lined with water-filled pockets that created enough hydrostatic pressure to counter the G-forces. During the Second World War, it became the world's first anti-gravity suit used in combat.
Product #: 404202107
Denomination: 5 x Permanent™ (domestic rate)
Design: Ivan Novotny, Taylor|Sprules Corporation
Dimensions: 160 mm (wide) x 180 mm (high)
Printer: Lowe-Martin
Printing Process: CMYK + 485 + 7500 + spot gloss varnish + tag
Quantity: 50,000
Illustration: DHC-2 Beaver illustration – Flight Manuals Online; schematics (adapted); used with permission of Longview Aviation Capital
Tagging: 4-sides
Shop