Holiday Birds
November 01, 2022

As we move into winter, we count on the cheerful colours of the holidays to bring light into the darkness. In this year's holiday issue, with stamps in three denominations, you'll find three birds that remain with us through the long winter months. Their brilliant colours and visits to backyard feeders brighten the season, and like other birds and animals, they can bring us meaningful messages, which vary by culture or tradition.
The cardinal (booklet of 12 stamps, domestic rate), with its festive red colouring, can represent transformation or a pivotal point in one's life and is a symbol of devotion, diversity and unity. The incredibly smart and tenacious blue jay (booklet of 6, U.S. rate) often mates for life and in some traditions symbolizes strength, loyalty and lasting bonds. It can also be a sign that one may attain higher knowledge. The social and family-oriented grosbeak (booklet of 6, international rate) can awaken parental feelings and inspire healing, forgiveness and harmony, especially in family life.
The issue, created by first time stamp designers Hambly & Woolley Inc., also includes a souvenir sheet of the three stamps and a souvenir sheet Official First Day Cover, cancelled in Cardinal, Ontario.
Did you know Canada Post has been offering stamps for the holiday season since 1964?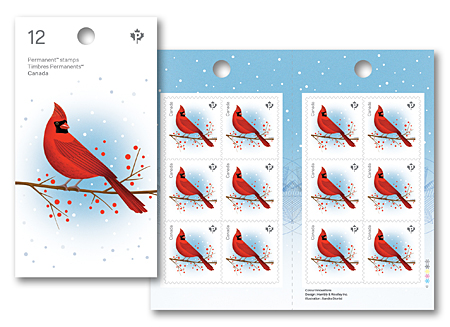 Booklet of 12 stamps
$11.04
Product #: 114211
Denomination: Permanent™ (domestic rate)
Design: Hambly & Woolley Inc.
Dimensions: 22 mm x 24 mm
Printer: Colour Innovations ‡
Printing Process: Lithography in 5 colours
Quantity: 1,100,000
Gum Type: PVA
Illustration: Sandra Dionisi
Shop