Monique Mercure
November 14, 2022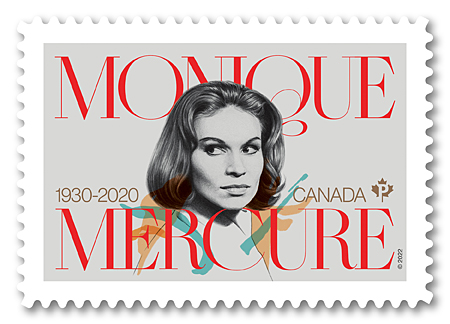 Known for her fiery spirit and intensely powerful performances, Monique Mercure, c.c. (1930-2020), was one of Canada's most admired and acclaimed francophone actresses. The stamp illustration, based on a photo from the early days of her career, captures the magnetism of Quebec's grande dame of stage and screen and her arrestingly expressive eyes.
"It was just such a pleasure looking through all the pictures and seeing her again when she was young," says her daughter, Michèle Mercure, who was closely involved in the project. "She was so beautiful."
After parting ways with her husband, composer Pierre Mercure, Montréal-born Monique Mercure left Paris to return home, where – despite the challenges of life as a single mother of three – she threw herself into a career as an actress. She went on to appear in more than 100 theatrical productions and dozens of movies and television series, becoming a household name in Quebec for such films as Mon oncle Antoine, Naked Lunch and The Red Violin.
"It was always an experience to see her in different roles – she was so incredibly versatile," says Michèle, whose personal favourite was as Rose-Aimée in J.A. Martin photographe – which earned Monique Mercure Canada's first Festival de Cannes award for best actress. "It was one of those roles where I was watching her on screen, but I didn't see my mother anymore."
Hard-working and talented, Mercure is remembered by her daughter as a walking encyclopedia of music and theatre who loved to garden, knit and play the piano – and who was always ready with an interesting anecdote. "She had an irreverent side to her, and that made her quite funny," says Michèle. "She was very spontaneous – always full of surprises – and just bursting with positive energy. You were never bored when you were around her."
Mercure also served as a director with the National Theatre School of Canada and starred in the TV dramas Providence and Mémoires vives into her 80s. "She received a lot of honours," says Michèle, "but she would definitely have considered this stamp the cherry on top."
"She was so focused on acting… she put all of her heart in it. It was a vocation – a calling – for her."
Michèle Mercure, speaking of her mother, Monique Mercure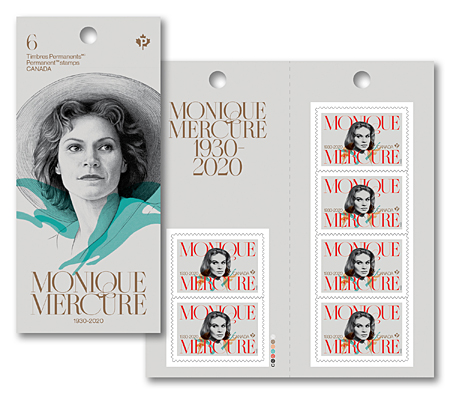 Booklet of 6 stamps
$5.52
Product #: 414215111
Denomination: Permanent™ (domestic rate)
Design: Underline Studio
Dimensions: 36 mm x 25 mm
Printer: Colour Innovations ‡
Printing Process: Lithography in 6 colours
Quantity: 150,000
Gum Type: PVA
Illustration: Oriana Fenwick
Tagging: 4 sides
Shop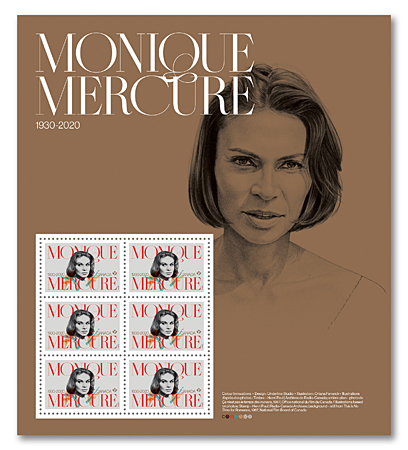 Product #: 404215107
Denomination: Permanent™ (domestic rate)
Design: Underline Studio
Dimensions: 160 mm x 180 mm
Printer: Colour Innovations ‡
Printing Process: Lithography in 6 colours
Quantity: 20,000
Gum Type: PVA
Illustration: Oriana Fenwick
Tagging: 4 sides
Shop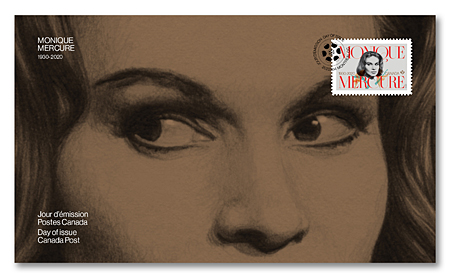 Official First Day Cover
$1.92
Product #: 414215131
Denomination: Official First Day Cover
Design: Underline Studio
Dimensions: 190 mm x 112 mm
Printer: Colour Innovations ‡
Quantity: 7,000
Gum Type: PVA
Illustration: Oriana Fenwick
OFDC Cancellation Location: Montréal QC
Shop