Ranunculus
March 01, 2023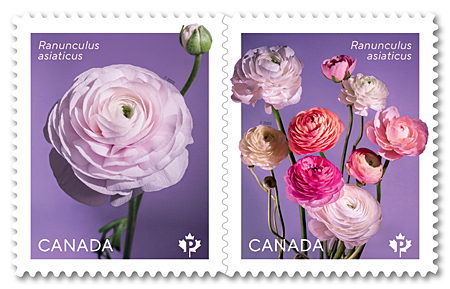 Once again, Canada Post welcomes spring with its annual flower issue. The 2023 stamps feature the lavish, rose-like blossoms of Ranunculus asiaticus, one of the many varieties of ranunculus that are a favourite of florists and gardeners and a popular choice for wedding bouquets, centrepieces and containers.
Native to southwestern Asia, southern Europe and northern Africa, Ranunculus asiaticus is also known as Persian buttercup. The name Ranunculus comes from the Latin words for "little frog," since many species grow near streams – although the variety shown on the stamps is more partial to sunny hillsides and pastures. While the wild Ranunculus is usually yellow, cultivated blooms can be orange, red, violet or various shades of pink.
Designed by Stéphane Huot, with images by Veronique Meignaud, the stamps are available in booklets of 10 and coils of 50, as well as collectible coil strips of 4 and 10 stamps. The Official First Day Cover is cancelled in Goderich, Ontario, considered one of the prettiest towns in Canada.

Booklet of 10 stamps
$9.2
Product #: 414217111
Denomination: Permanent™ (domestic rate)
Design: Stéphane Huot
Dimensions: 26 mm x 32 mm
Printer: Lowe Martin
Printing Process: Lithography in 4 colours
Quantity: 1,000,000
Gum Type: PVA
Tagging: 4 sides
Photography: Veronique Meignaud
Shop