Animal Mothers and Babies
Posted On April 18, 2023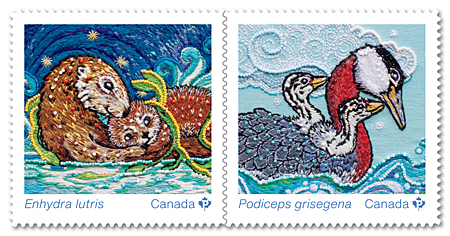 Issued in the lead-up to Earth Day and Mother's Day, these stamps depicting the tender relationship between two animal mothers and their babies are a perfect marriage of science and art.
Halifax designer Meredith MacKinlay and Temagami Anishinaabe artist Caroline Brown collaborated on the concept for the evocative stamp images, which Brown created by combining new and traditional techniques of embroidery and beadwork. "Fabric-based crafts have that feeling of homeyness and familial love," explains MacKinlay. "Embroidery is so textural, it seemed an ideal way to show the fur of the sea otter and feathers of the red-necked grebe."
Sole caregivers, mother sea otters float on their backs to feed, groom and cradle their young. The species, once hunted for its luxurious fur, was extirpated from British Columbia but has made a gradual comeback since being reintroduced. Red-necked grebes share responsibility for incubating their eggs and feeding the chicks, which ride on their parents' backs after hatching. The two species face many threats, including oil spills and other human disturbances.
For Brown, an avid stamp collector as a child and whose First Nations heritage has fostered a strong connection with nature, the project was a labour of love. "We worked with wildlife experts to make sure the animals were rendered accurately but also wanted to show the emotional connection between mother and baby," she says. "We gave the images a storybook quality and a sense of motion to make people curious about the worlds in which these creatures live – and remind them of how important it is to protect them." The original artwork crafted for the stamps took several months to create. "The whole philosophy of beadwork is to think about the message you're trying to convey while you're doing it," explains Brown. "You need to have a positive mindset and let it evolve naturally."
We gave the images a storybook quality and a sense of motion to make people curious about the worlds in which these creatures live – and remind them of how important it is to protect them.
Caroline Brown, Temagami Anishinaabe artist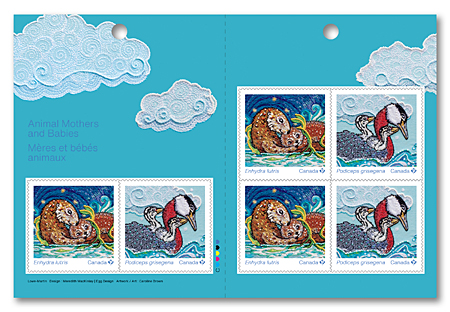 Product #: 414249111
Layout: Booklet of 6 stamps
Price: $5.52
Denomination: 2 x Permanent™ (domestic rate)
Design: Meredith MacKinlay Egg Design
Dimensions: 40 mm x 40 mm
Printer: Lowe-Martin
Printing Process: Lithography in 5 colours
Quantity: 200,000
Gum Type: PVA
Illustration: Caroline Brown
Shop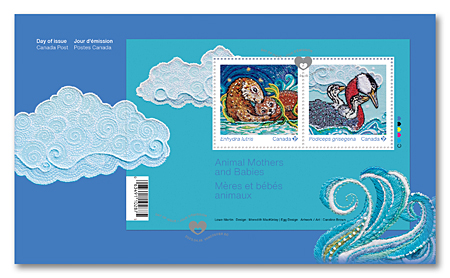 Product #: 404249144
Layout: Official First Day Cover
Price: $2.84
Denomination: 2 x Permanent™ (domestic rate)
Design: Meredith MacKinlay Egg Design
Dimensions: 190 mm x 112 mm
Printer: Lowe-Martin
Quantity: 7,000
Gum Type: PVA
Illustration: Caroline Brown
OFDC Cancellation Location: Vancouver BC
Shop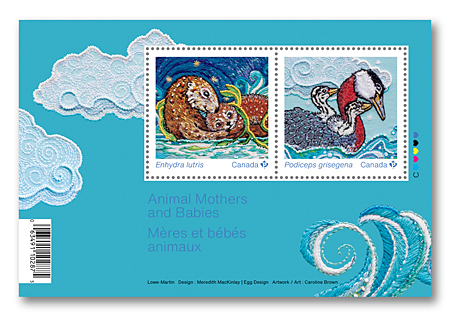 Product #: 404249145
Layout: Souvenir sheet of 2 stamps
Price: $1.84
Denomination: 2 x Permanent™ (domestic rate)
Design: Meredith MacKinlay Egg Design
Dimensions: 128 mm x 86 mm
Printing Process: Lithography in 5 colours
Quantity: 50,000
Gum Type: PVA
Illustration: Caroline Brown
Shop