His Majesty King Charles III
Every time I come to Canada ... a little more of Canada seeps into my bloodstream. And from there, straight to the heart.
May 08, 2023
His Majesty King Charles III (then The Prince of Wales), speaking in Winnipeg, Manitoba, during the 1996 Royal Tour
On September 8, 2022, His Majesty King Charles III ascended the throne at the passing of his mother, Queen Elizabeth II.
The heir apparent since 1952, The King was invested as Prince of Wales by The Queen when he was nine years old. He was an early advocate for environmental issues and is the president or patron of more than 400 organizations, including many in Canada. Since his first official tour in Canada in 1970, His Majesty has returned numerous times. He and The Duchess of Cornwall (now The Queen Consort) made their most recent tour in 2022 as part of The Queen's platinum jubilee celebrations. The photograph featured on the Official First Day Cover was taken by Justin Tang in Ottawa during that tour.
This is the first time His Majesty King Charles III has appeared on a Canadian stamp. This issue follows a long-standing tradition of producing stamps that depict the Canadian sovereign, beginning in 1851 with a pre-Confederation stamp featuring Queen Victoria, King Charles's great-great-great-grandmother.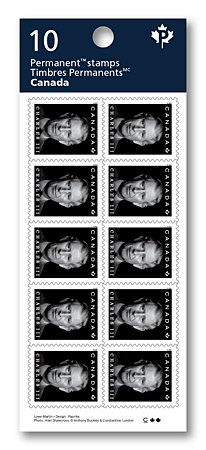 Product #: 111251
Denomination: Permanent™ (domestic rate)
Design: Paprika
Dimensions: 20 mm x 24 mm
Printer: Lowe-Martin
Printing Process: Lithography in 2 colours
Quantity: Continuous printing
Tagging: 4 sides + blue tagging on stamp text
Photography: Alan Shawcross, © Anthony Buckley & Constantine, London
Shop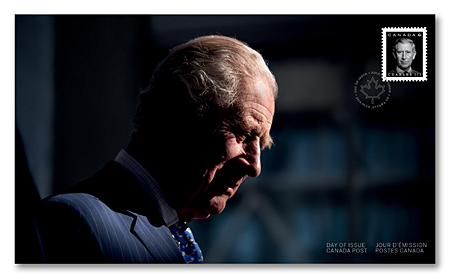 Product #: 411251131
Denomination: Permanent™ (domestic rate)
Dimensions: 190 mm x 112 mm
Printer: Lowe-Martin
Quantity: 7,000
Tagging: 4 sides + blue tagging on stamp text
Photography: His Majesty King Charles III (then The Prince of Wales) in Ottawa during the 2022 Royal Tour. Justin Tang | The Canadian Press
OFDC Cancellation Location: Ottawa, ON
Shop