Royal Canadian Mounted Police 150th anniversary
May 23, 2023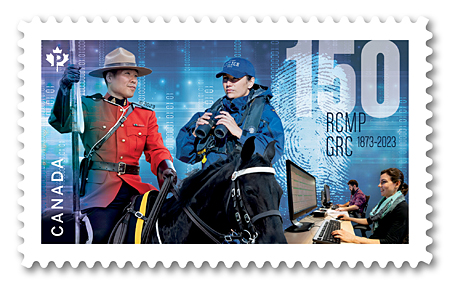 Canada Post is marking the 150th anniversary of the Royal Canadian Mounted Police (RCMP) with a single stamp and Official First Day Cover.
Originally a 300-person corps, the RCMP was established as the North-West Mounted Police by an Act of Parliament on May 23, 1873. As the country grew and became more populous, the organization broadened its jurisdictions, evolving into the internationally recognized police organization it is today. With a contingent of more than 19,000 police officers, supported by more than 11,000 civilian members and public servants, the RCMP is present from the community level up to the provincial, territorial and federal levels. It also operates beyond Canada's borders through international policing and peacekeeping efforts. Leading up to this significant anniversary, the RCMP developed its Vision150 mandate, which acknowledges the past, while driving change for the future.
Designed by Réjean Myette, the stamp features a collage of imagery representing the modern RCMP organization, with emphasis on its multiple functions.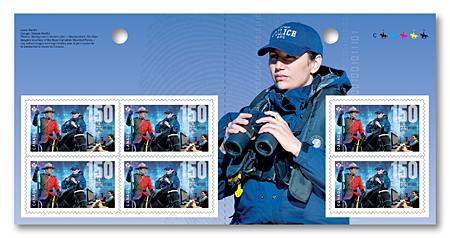 Product #: 414224111
Denomination: Permanent™ (domestic rate)
Design: Réjean Myette
Dimensions: 40 mm x 24 mm
Printer: Lowe-Martin
Printing Process: Lithography in 5 colours
Quantity: 100,000
Photography: Background – Shutterstock. All other imagery courtesy of the Royal Canadian Mounted Police
Shop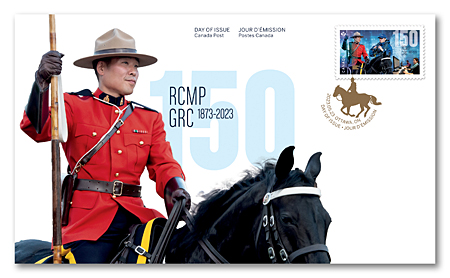 Product #: 414224131
Denomination: Permanent™ (domestic rate)
Dimensions: 190 mm x 112 mm
Printer: Lowe-Martin
Quantity: 5,000
Photography: Royal Canadian Mounted Police
OFDC Cancellation Location: Ottawa, ON
Shop