Indigenous Leaders
June 21, 2023

The second set of stamps in the Indigenous Leaders series honours three Métis, First Nations and Inuit leaders whose tireless efforts to protect the rights, culture and welfare of their people had a profound influence on Canada's history.
Champion of her people – the Inuvialuit of Canada's western Arctic – Nellie Cournoyea, o.c. (b. 1940, Aklavik, Northwest Territories), was the first Indigenous woman, and second woman, to head a provincial or territorial government in Canada. Elected to the legislature in 1979, she held many ministerial portfolios prior to being selected as Premier of the Northwest Territories (1991-95). Cournoyea played a significant role in the negotiation of the Inuvialuit Final Agreement, which included a land settlement of over 90,000 square kilometres, and the discussions leading to the creation of Nunavut. Still active in her community, she is pictured on her stamp in 2022.
A member of the Neskonlith Indian Band of the Secwepemc Nation in British Columbia, George Manuel, o.c. (1921-89), was a skilled political strategist and author whom many credit with inspiring the modern Indigenous movement in Canada. He headed several national and international Indigenous organizations, and his Constitution Express – which brought supporters from the west to Ottawa, New York and Europe in the early 1980s – contributed to the recognition and affirmation of existing Indigenous and treaty rights in the Constitution Act, 1982. The stamp features Secwepemc artist Tania Willard's bold reinterpretation of a photograph of Manuel, taken circa 1973, that reflects Indigenous quillwork and blanket designs.
The first Indigenous woman appointed to the Senate, Métis activist Thelma Chalifoux (1929-2017) was a powerful force for social justice. Born in Calgary, Alberta, she devoted her life to improving the welfare of her people – in particular, women. The stamp features a photo of Chalifoux from the Northern Alberta Institute of Technology, where she served as Métis Elder in Residence after retiring from the Senate. In the background is detail from The Celebration by Métis visual artist Christi Belcourt – an homage to Chalifoux's love of flowers and the craft and floral design business she owned.
The stamps were designed by Lime Design (Chalifoux) and Andrew Perro (Cournoyea, Manuel).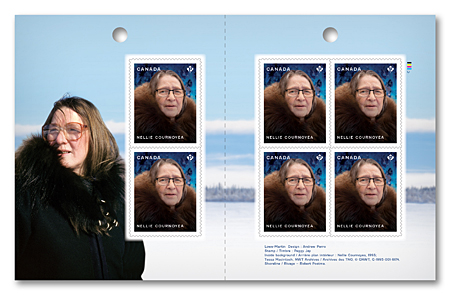 Booklets of 6 stamps
$5.52
Product #: 414225111
Denomination: Permanent™ (domestic rate)
Design: Andrew Perro; Lime Design
Stamps: Nellie Cournoyea – Peggy Jay
Dimensions: 32 mm x 40 mm
Printer: Lowe-Martin
Printing Process: Lithography in 5 colours
Quantity: 100,000
Shop