Let's Take the Ferry!
July 12, 2023

Ferries are part of Canada's marine heritage and continue to play a role in regional transit systems. Harkening back to a more leisurely mode of travel, these stamps, featuring Canadian ferries still in service, are sure to inspire both nostalgia and wanderlust.
Built in 1993, Spirit of British Columbia has a capacity to transport 2,100 passengers and crew, plus more than 350 vehicles, on a 95-minute scenic route that crosses the Salish Sea, connecting Vancouver (Tsawwassen) and Victoria (Swartz Bay).
Chi-Cheemaun – "big canoe" in Ojibwe – crosses Lake Huron's Georgian Bay between Tobermory, on the Bruce Peninsula, and Manitoulin Island. Built in 1974, the passenger and vehicle ferry operates from May to October, with a capacity of 643 passengers and close to 150 vehicles.
Launched in 1910, the rare side-wheeled paddle steamer Trillium was retired in 1956 but returned to service in 1976 following a two-year restoration. It now carries up to 800 passengers between Toronto and the Toronto Islands.
Named after the founder of North America's first credit union and built in 1971, Alphonse-Desjardins can transport up to 590 passengers and more than 50 vehicles. It provides a year-round connection across the St. Lawrence River between Québec and Lévis.
Built in 1990, New Brunswick's Grand Manan V travels in some of the highest tides in the world, carrying up to 300 residents and visitors and 60 vehicles to Grand Manan, the largest island in the Bay of Fundy.

Booklet of 10 stamps
$9.20
Product #: 414229111
Denomination: 5 x Permanent™ (domestic rate)
Design: Context Creative
Dimensions: 32 mm x 26 mm
Printer: Lowe-Martin
Printing Process: Lithography in 6 colours
Quantity: 200,000
Shop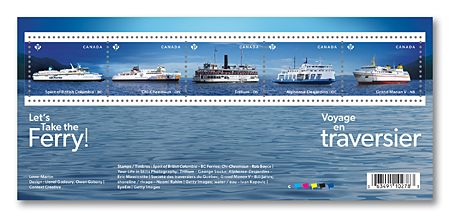 Souvenir sheet of 5 stamps
$4.60
Product #: 404229145
Denomination: 5 x Permanent™ (domestic rate)
Dimensions: 170 mm x 75 mm
Printing Process: Lithography in 5 colours
Quantity: 60,000
Gum Type: PVA
Shop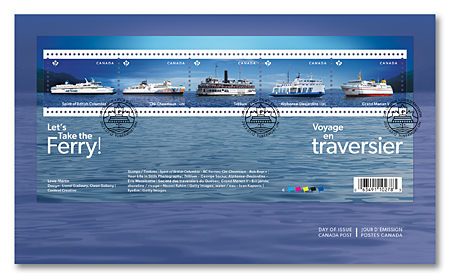 Souvenir sheet Official First Day Cover
$5.60
Product #: 404229144
Denomination: 5 x Permanent™ (domestic rate)
Dimensions: 190 mm x 112 mm
Quantity: 7,000
OFDC Cancellation Location: Tobermory ON
Shop