Sign up for My Mailbox today to see your mail before it arrives.
When we spot new mail headed your way, we'll notify you of the sender and the number of mail pieces. Get a head start on your mail before it arrives to your registered address or community mailbox.
Go mobile with your mailbox.
Let your physical mail fit your digital lifestyle. With the My Mailbox app, check your mail when it suits you best. Download the iOs app to get started.
Learn more
Wonder what's in your mailbox?
A sneak peek at your mail.
Know what's coming soon to your mailbox.
Inbox or app? Your choice.
Choose to get timely updates through the app, to your inbox, or both.
Mail that fits your routine.
Plan your trip to the mailbox, knowing what you'll find.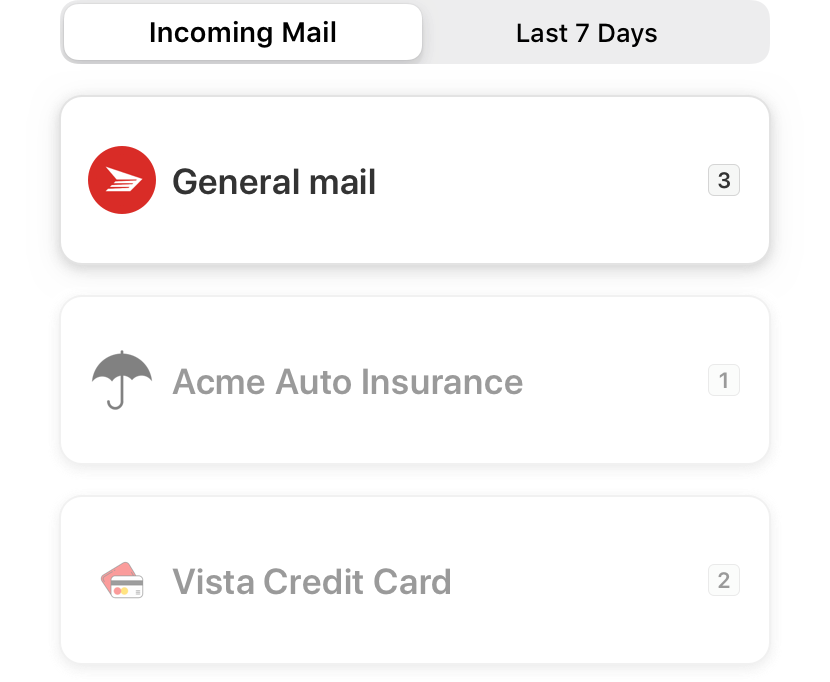 What types of mail are included in My Mailbox?
Through My Mailbox, we'll update you about incoming mail from the types of organizations and businesses that send account updates, statements, bills, cheques and contracts. We'll also notify you of mail containing promotions and special offers*.
Note: Certain types of mail are not part of this beta, but are planned for a future release, including packages, flyers, magazines, and oversized mail. Find out more about mail we don't include yet.
*This includes mail that is both addressed to your household and can be sorted by our automated equipment.
Keep your account up to date. For example, if you move to a new home while you're using the beta, you can update your address at any time in My Mailbox settings.
During the My Mailbox beta, we'll be looking for ways to improve the service. We'll send you an email giving you the opportunity to complete a survey. If you're interested in sharing additional feedback over the course of the beta, we want to hear from you.
How to get started using My Mailbox
Follow the steps below, and if you run into any challenges, contact us at mail_courrier@canadapost.ca. If you already have the Canada Post app on your device and you download the My Mailbox beta app, it will replace the existing Canada Post app.
Step 1: Download the TestFlight app
On your iOs phone, the download button will take you to the TestFlight page, where you'll follow directions. In Step 1, "Get TestFlight", you will download the TestFlight app. Then return to the TestFlight page and follow Step 2, "Join the Beta". Tap on Start Testing, which will open to the Testflight app and allow you to Accept and Install My Mailbox.
Keep TestFlight on your device: Once you have My Mailbox set up on your phone, TestFlight will keep you in the loop as updates for the My Mailbox app become available.
Download now
Only available on iOs
Step 2: Sign in or create your Canada Post account
The app will ask you to sign in to your Canada Post account. If you don't already have one, you'll be asked to create one in a few easy steps.
Step 3: Find out if your mailing address is eligible
My Mailbox is growing to new areas across the country, however, it's currently only available for certain mailing addresses. Sign up for My Mailbox to find out whether your address is eligible. If it's not, you'll be added to our waitlist and we'll reach out when your address becomes eligible.
Step 4: Get consent from the other members of your household
My Mailbox sends you notifications about mail arriving at your address, whether the recipient is you or someone else in your household. As part of the registration process, Canada Post will send a notice in the mail giving everyone in the household the chance to consent to the service. Learn more through our terms and conditions.
Step 5: Start checking your mail through My Mailbox
Within 1-2 business days, you'll receive updates on mail coming to your address.
Step 6: Choose how to see your mail – through the app, your email inbox, or both
My Mailbox updates are available through the app as well as daily emails, so you can decide how you prefer to be notified of your incoming mail.