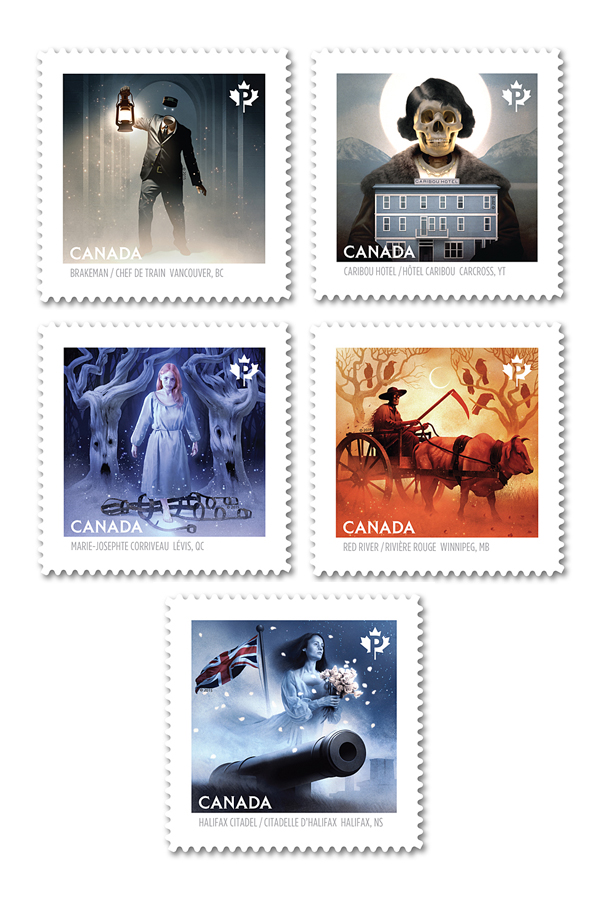 In this second issue of the Haunted Canada series, we continue our harrowing journey to some of Canada's most frightening locations. Mirroring the first issue released in June 2014, each of these five illustrated stamps focuses on a different supernatural site – their images made extra eerie through the use of holographic foil. Lionel Gadoury, principal and creative director of Context Creative tasked with designing the series, reveals, "For this second Haunted Canada issue, we thoroughly researched each mysterious tale, diving into visual details with illustrator Sam Weber."
And what tales they are… On the west coast of British Columbia, one of several neighbourhood haunts in Vancouver's historic Gastown district has been home to countless sightings of dancing ghosts, phantom passengers and, in particular, the headless spirit of a brakeman who was decapitated by a train nearly a century ago. On the Red River trails in Manitoba, scary stories abound, including one of a night sentry at Fort Garry who saw a Métis couple driving an ox cart disappear into thin air when he called for them to halt.
In Lévis, Quebec, the tortured soul of Marie-Josephte Corriveau still roams the roads and forests. After being arrested, tried and executed on charges of killing her husband, the reputed "murderess of New France" was placed in an iron cage and her dead body left hanging in a tree.
There's also Bessie Gideon, one of the many owners of the gold rush-era Caribou Hotel in Carcross, Yukon. She is a hospitable spirit who refuses to leave the premises and has been known to knock on doors, add bubbles to baths and peer out the window with her parrot, Polly.
Finally, there's the tragic tale of the Grey Lady of the Halifax Citadel who, according to security guards, strolls the second floor of the fortress at night, clad in a 19th century dress and smelling of roses. The tormented spectre is thought to be of Cassie Allan, the fiancée of a young sergeant who shot himself dead at his barracks when he was expected at the altar.
Of the thinking behind the series, Gadoury says, "Ghost stories are archetypal reminders of our own mortality. We let our thoughts run wild as we contemplate aspects of the unknown. Our hope is that others will enjoy the same spine-tingling thrills we experienced in creating these legacy stamps."
Stamp Specifications