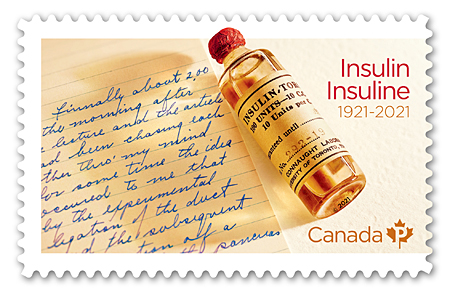 Issue date: April 15, 2021
On the brink of death from diabetes, 13-year-old Leonard Thompson was skeletal. The starvation diet he had been following – the only known treatment for diabetes in the early 20th century – had reduced him to less than 29 kilograms (65 pounds). As he lay in critical condition in Toronto General Hospital in January 1922, his father gave doctors permission to try an experimental drug developed by University of Toronto researchers that had never been injected into humans. Although Leonard had an adverse reaction to the initial formula, a second round of injections – administered after further refinements – saved his life. From these early trials came the medical breakthrough now known as insulin. The diagnosis of diabetes was no longer considered a death sentence.
It was an early-morning epiphany that led Dr. Frederick Banting to this life-saving discovery. The achievement was a team effort, with the surgical approach of Dr. Banting, the critical input of research assistant Charles Best and visiting biochemist James Collip, and the advice, guidance and oversight of John Macleod, chair of the Physiology Department. The discovery of insulin – which earned Banting and Macleod the 1923 Nobel Prize in Physiology or Medicine – has saved and improved the lives of countless people with diabetes over the past century.
Stamp Specifications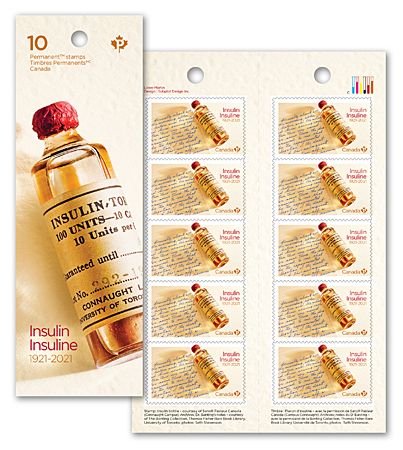 Product #: 414164111
Layout: Booklet of 10 stamps
Price: $9.20
Denomination: Permanent™ (domestic rate)
Design: Subplot Design Inc.
Photos: Stamp: Insulin vial – courtesy of Sanofi Pasteur Canada (Connaught Campus) Archives; Dr. Banting's notes – courtesy of The Banting Collection, Thomas Fisher Rare Book Library, University of Toronto; photos: Seth Stevenson.
Dimensions: 40 mm x 25 mm
Printer: Lowe-Martin
Printing Process: Lithography in 6 colours
Quantity: 130,000
Shop Now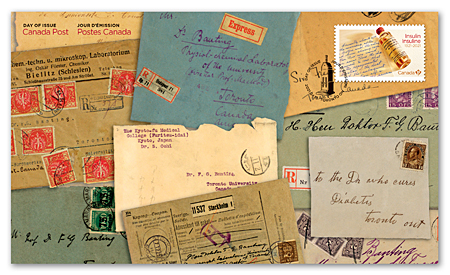 Product #: 414164131
Layout: Official First Day Cover
Price: $1.92
Denomination: Permanent™ (domestic rate)
Design: Subplot Design Inc.
Photos: Stamp: Insulin vial – courtesy of Sanofi Pasteur Canada (Connaught Campus) Archives; Dr. Banting's notes – courtesy of The Banting Collection, Thomas Fisher Rare Book Library, University of Toronto; photos: Seth Stevenson.
Dimensions: 190 mm x 112 mm
Printer: Lowe-Martin
Printing Process: Lithography in 6 colours
Quantity: 7,000
Shop Now