First joint stamp issue by Canada Post and India Post marks five-day festival
It's a celebration of the triumph of light over darkness, good over evil, knowledge over ignorance and hope over despair. Diwali, the five-day Festival of Lights, is an important annual celebration for many Hindus, Sikhs, Buddhists and Jains in Canada and around the world. Canada Post and India Post are proudly celebrating Diwali with a historic joint stamp issue that shines a light on our country's diversity during Canada 150.
A celebration across Canada and around the world
Approximately one fifth of the world and well over 1 million Canadians observe Diwali, held this year from October 19 to 23.
The celebration traditionally includes fireworks displays. In Canada, people often light candles in their homes, while in India — where Diwali is a major holiday — they light small clay lamps filled with oil. Illumination is believed to ward off evil and attract happiness and good fortune.
People observing Diwali also display colourful geometric rangoli patterns in their homes, share sweets and exchange gifts to celebrate and bring good luck. The festival begins on the 15th day of Kartika in the Hindu calendar.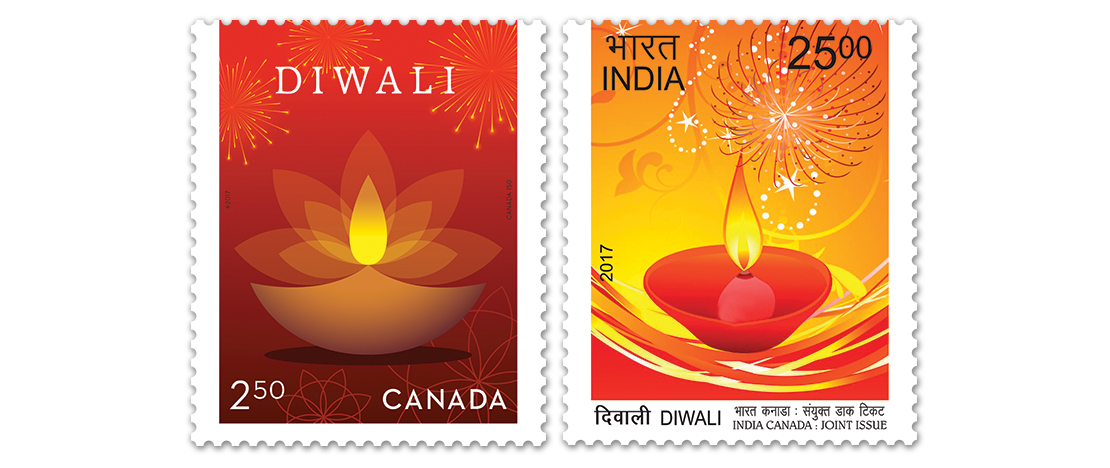 New stamps honour Diwali
Two domestic-rate stamps celebrating Diwali are available in Canada, released as part of the first joint issue by Canada Post and India Post. The images on both stamps proudly reflect how Diwali is celebrated.
A stamp with a red background is the Canadian design, while one with a gold background was designed by India Post. A separate souvenir sheet has a Canadian international rate stamp and an Indian stamp.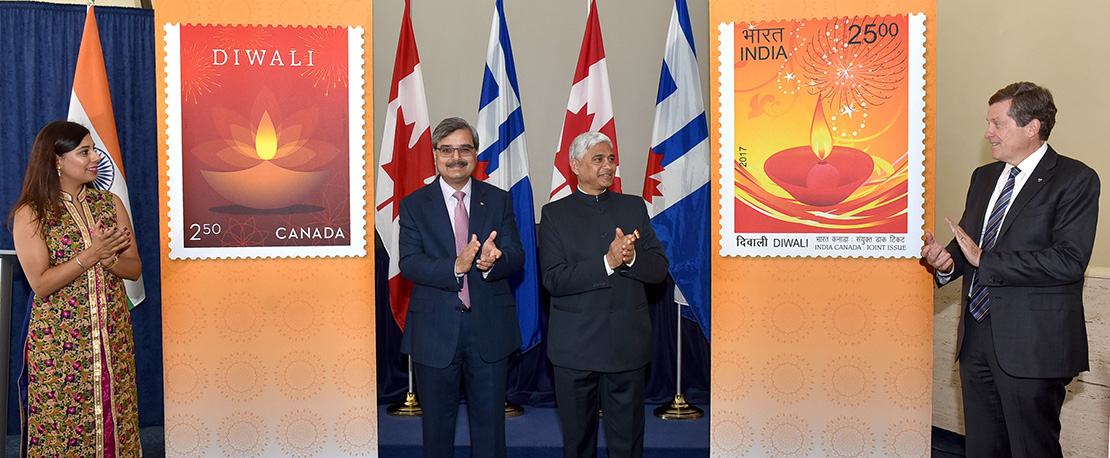 A unifying celebration for many faiths
Canada Post President and CEO Deepak Chopra said Canada Post and India Post looked at various potential stamp topics for the joint issue that symbolized the country-to-country and people-to-people relationship.
"Both sides settled on Diwali as saying: 'This is truly a festival that brings the two countries together, more so than any other symbolism we could do,'" he said at the stamp unveiling.
"It is a victory of good over evil, knowledge over ignorance. And those victories, in fact, are universal. And the festival is a unifying celebration for many faiths."
Spread the message of Diwali
His Excellency, Mr. Vikas Swarup, the High Commissioner of India to Canada, said the joint issue is a great example of cooperation between Canada and India, and an important symbol of friendship.
The stamps also serve as a tribute to the Indian community in Canada, which now numbers more than 1.2 million, he said.
"Diwali is a festival which brings everyone together in a shared celebration of the victory of good over evil. It's especially appropriate that we should issue this joint stamp in the year of Canada at 150 and India at 70," Mr. Swarup said at the stamp unveiling.
"May this postage stamp serve to bring our two countries even closer, unite our two peoples and spread the message of Diwali — of joy, prosperity, health and wealth all across the world."
Stamps for other major religious celebrations
The Diwali stamp is one of three new religious stamps Canada Post is issuing this year, which reflect our pride in Canada being a land of diverse faiths, customs and celebrations.
Earlier this year, Canada Post issued a stamp that celebrates two of the Muslim faith's most important festivals, Eid al-Fitr and Eid al-Adha. Canada Post will also issue a Hanukkah stamp this year, recognizing the Jewish faith's eight-day celebration in December.
The new religious stamps build on the longstanding tradition of issuing Christmas stamps. Canada Post has issued annual Christmas stamps since 1964. In recent years, one Christmas stamp has depicted a sacred image reflecting the Christian faith, and another reflects a secular holiday theme.