Celebrating icons of excellence
Originally published for International Women's Day 2018
The United Nations first sanctioned International Women's Day in 1975, inviting member nations to set aside one day a year to recognize women and commit to equality. The United Nations also declared 1975 International Women's Year.
That year Canada Post released The Hurdler, a 50-cent stamp commemorating track and field and showcasing a female athlete. That powerful competitor wasn't the first non-royal woman to grace a Canadian stamp – nurses were represented in 1958 and poet Emily Pauline Johnson appeared in 1961. But the Hurdler, rushing past and over barriers, ushered in a modern era of recognition of women's undeniable strength.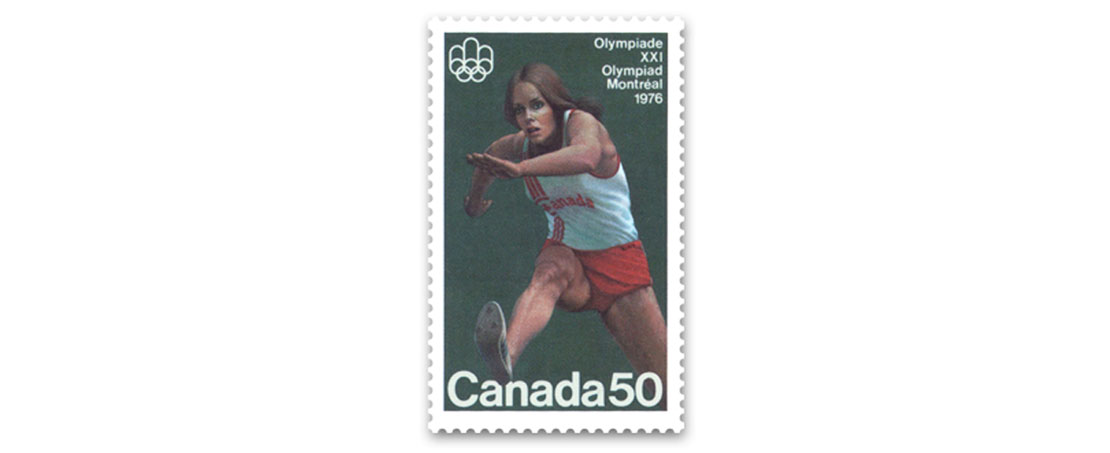 Today, on International Women's Day 2018 (#IWD2018), Canada Post salutes 9 extraordinary women – activists and athletes, historic figures and everyday heroes whose accomplishments inspire our country and the world.

Sharon and Shirley Firth
Members of the first Canadian Olympic cross-country skiing team, Sharon and Shirley Firth developed their stamina and strength as children. Born in the Northwest Territories, and taught the Indigenous ways of hunting and trapping, the twins' ability to conquer the challenging terrain set them apart. Members of the national cross-country ski team for 17 years, they competed in four consecutive Olympic Winter Games – the first Canadian women to do so – before retiring from sports.

Sonja Gaudet
After an accident left her paralyzed, Sonja Gaudet was determined to resume her active life. She reached out to Rick Hansen for guidance and would eventually break records in competitive sport. When wheelchair curling was first recognized at the Paralympics, Gaudet was a member of the trailblazing team. She would go on to win three Paralympic Gold medals. No wheelchair curler has earned more.


Danielle Goyette
A fearless forward, Danielle Goyette has won three Olympic medals in women's hockey and made more than 100 goals – including the first ever in an Olympic gold medal women's game. The first female player from Quebec inducted into the Hockey Hall of Fame, Goyette went on to coach women's hockey at the University of Calgary.

Nancy Greene
Nancy Greene's Giant Slalom victory at the Grenoble Olympics in 1968 solidified her place in sports history. The wins piled up: 17 Canadian Championship titles and 13 World Cup victories. Greene has been recognized as Canada's Female Athlete of the 20th Century and you'll find her name on Canada's Walk of Fame. She's also a senator from British Columbia.


Clara Hughes
A six-time Olympic winner in cycling and speed skating, Clara Hughes is the only athlete to win multiple medals in both the Summer and Winter Olympic games. A spokesperson for mental health, Hughes donated her winnings from the 2006 Olympics to The Right to Play, an international organization that uses sport and games to teach and empower children.


Kay Livingstone
Advocate and activist Kay Livingstone pressed for civil rights and recognition of black people. She initiated the first National Congress of Black women, an organization that lives on and provides scholarships in her name. She hosted her own radio show, and worked for the United Nations and legal aid. In 2011 the federal government named her a person of National Historic Significance.

Adrianne Pieczonka
Soprano Adrianne Pieczonka started her career at the Canadian Opera Company. Over 30 years, she earned international recognition as she took to stages across Europe and the U.S. An Officer of the Order of Canada, she released a Juno Award-winning CD and received numerous prestigious awards for career achievement.

Lauren Woolstencroft
Born without legs below the knee and without her left arm below the elbow, Lauren Woolstencroft starting skiing at the age of four. She went on to earn a degree in electrical engineering and win eight gold medals at the Paralympic games. Named Athlete of the Year by the International Paralympic Committee, she is also an inductee to the Sports Halls of Fame of Alberta, British Columbia and Canada.
Read more about Canada's outstanding female athletes at canadapost.ca/magazine
For more on the 2018 Black History month stamps, visit canadapost.ca
The stamps and all related products are available at retail outlets and online at canadapost.ca/shop