On November 25, 2021, Canada Post released a new commemorative stamp in honour of literary giant, Margaret Atwood.
With more than 50 works to her credit, the Queen of CanLit has been writing for 60 years and has sold millions of books worldwide. From the Giller Prize to two Booker Prizes, she's earned countless top awards in literature.
A writer of novels, short fiction, poetry, criticism, graphic novels and children's books, Atwood has been growing her fanbase at home and abroad with each new release. Her iconic stories have been adapted into films, plays and television series, including the critically acclaimed and multi-Emmy-Award–winning The Handmaid's Tale. 
Decade after decade, readers have found themselves captivated and challenged by the narratives she creates and the themes she so deftly mines, like truth, environmental degradation and, of course, power.
The commemorative stamp includes text from her 1981 poem "Spelling" that echoes her belief in the power of one's voice:
 "A word after a word after a word is power."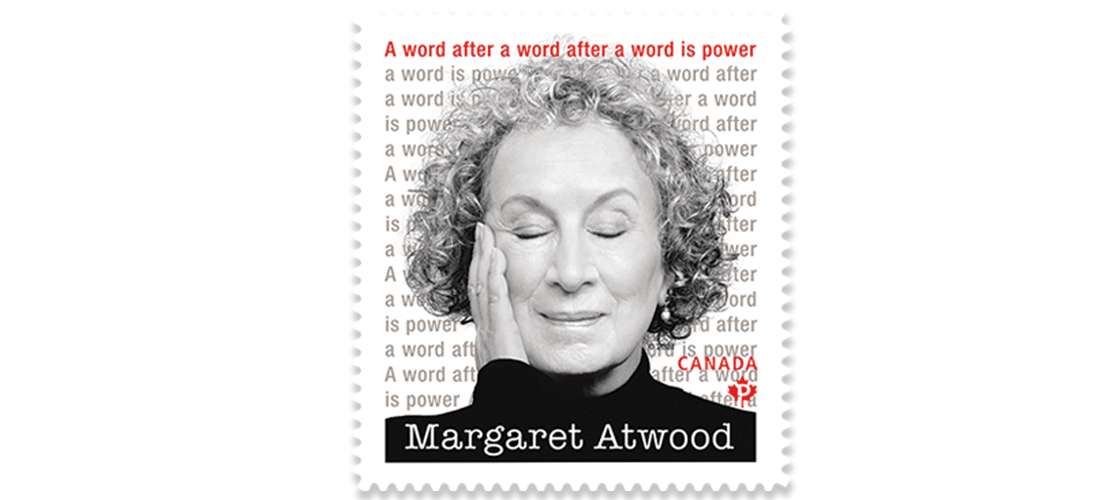 Early years
Born in Ottawa in 1939, the bestselling author grew up in the woods of northern Ontario and Quebec. By age six, she had started to write poems, morality plays and comic books.
Her family moved to Toronto in 1946 – an experience she would later fictionalize in her novel Cat's Eye – and she eventually studied at the University of Toronto under renowned poet Jay Macpherson and influential literary critic Northrop Frye. She later earned a master's degree from Radcliffe College.
In the early 1960s, Atwood burst onto the Canadian literary scene with two collections of poetry: Double Persephone along with The Circle Game, which garnered her the first of two Governor General's Literary Awards and cemented her status as a serious poet.
In 1969, she established herself as a significant writer of fiction when she released her first novel, The Edible Woman. The book explored the themes of women's relation to society, to men and to food, along with the relentless absurdities of modern life.
"I've always thought eating was a ridiculous activity anyway. I'd get out of it myself if I could, though you've got to do it to stay alive, they tell me."
-The Edible Woman
Breaking new ground
As one of Canada's most prolific writers, Atwood has continually broken new ground.
In her 1988 novel Cat's Eye, she tackled the issues of memory and childhood, and themes of identity, secrecy and betrayal. The book was a critical and popular hit. It won the Toronto Book Award and was shortlisted for the Booker Prize.
She tested new narrative structures and questioned the meaning of truth with her next two award-winning novels: The Robber Bride (1993), which won a Trillium Book Award, and Alias Grace (1996), an international bestseller and winner of the prestigious Giller Prize.
The latter, which is based on the true story of convicted "murderess" Grace Marks, remains among the most complex narrative structures Atwood ever created. Canadian filmmaker Sarah Polley, who first read the novel as a teenager, adapted it some 20 years later for her 2017 acclaimed CBC and Netflix series.
"Gone mad is what they say, and sometimes Run mad, as if mad is a direction, like west; as if mad is a different house you could step into, or a separate country entirely. But when you go mad you don't go any other place, you stay where you are. And somebody else comes in."
-Alias Grace
No signs of slowing down
Entering her fifth decade of writing, Atwood refused to slow down.
In 2000, she won her first Booker Prize with another critical and popular hit, The Blind Assassin. From there, she continued to push herself creatively while pulling fans into newly imagined worlds with works like Oryx and Crake (2003), The Penelopiad (2005) and The Year of the Flood (2009).
Arguably, for her newest fans, it's her dystopian visions that resonate the most. After the new television adaptation of The Handmaid's Tale (based on her 1985 novel) hit the airwaves in 2017, it instantly became a global cultural phenomenon in which the red cloak and white bonnet were widely adopted as a stark symbol of women's oppression.
"There is more than one kind of freedom, said Aunt Lydia. Freedom to and freedom from. In the days of anarchy, it was freedom to. Now you are being given freedom from. Don't underrate it."
-The Handmaid's Tale
The Testaments, the sequel to The Handmaid's Tale, which came out in 2019 became an instant bestseller and went on to win Atwood's second Booker Prize.
Honours and advocacy
Atwood's list of works and accomplishments could fill its own book – along with the accolades she's received over the years.
On top of dozens of literary prizes, she also counts among her honours a Guggenheim Fellowship, the Franz Kafka International Literary Prize, the Dayton Literary Peace Prize and the PEN Pinter Prize.
She is a Fellow of the Royal Society of Canada, a Chevalier of France's Ordre des Arts et des Lettres, an International Honorary Member of the American Academy of Arts and Sciences and, in 1981, she was named a Companion of the Order of Canada.
She is the recipient of multiple honorary degrees, including ones from the University of Toronto, Harvard University and Oxford University.
Alongside her extraordinary literary career, Atwood has also championed the issues that she explores in her writing, including the environment with focus on bird conservation, literacy and human rights. She is the co-founder of The Writers' Union of Canada, The Writer's Trust of Canada and PEN Canada.  She continues to advocate for these causes, and to inspire her fans and followers to use their voice to do the same.
"A voice is a human gift; it should be cherished and used, to utter fully human speech as possible. Powerlessness and silence go together."
–Second Words: Selected Critical Prose
Canada Post celebrates Margaret Atwood with new commemorative stamp
Available now