Chair's message
As I look back at 2021, I'm encouraged by several signs of progress even with the ongoing difficulties posed by the pandemic. Three examples, among many, remind me of the depth and breadth of Canada Post's activities as it adopts a leadership role beyond service alone. Efforts to build stronger relationships between management and bargaining agents bore fruit in new agreements; employees and their leaders reduced injuries for a third consecutive year; and Corporate Knights named Canada Post one of the country's top corporate citizens in recognition of its social and sustainability leadership.
A strong and dedicated team to serve the country
Everything that Canadians appreciate about Canada Post starts with its employees. They serve with pride and dedication, knowing that service to Canadians is at the heart of everything we do. In 2021, they answered unexpected challenges with determination, such as the devastating floods in British Columbia, while working hard to deliver a solid peak holiday season for Canadians. On behalf of the Board, I wish to thank employees for their service to Canadians.
Management's improved relationship with bargaining agents also directly benefitted our employees in two important ways. First, leaders of the Canadian Union of Postal Workers in two bargaining units (representing Urban employees and Rural and Suburban Mail Carriers) and in the Association of Postal Officials of Canada worked with us to reach new or extended collective agreements in 2021, before the existing agreements had expired. Second, as COVID‑19 remained a safety risk, our bargaining agents were constructive partners in our many consultations around safety measures.
Building capacity, improving service and demonstrating leadership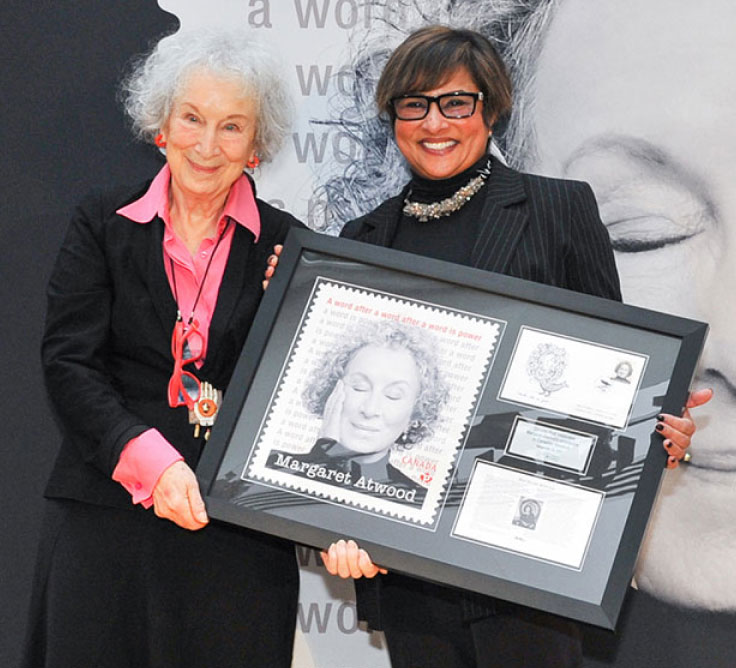 Legendary Canadian writer Margaret Atwood and Suromitra Sanatani, Chair of the Canada Post Board of Directors, hold a commemorative frame showcasing a stamp honouring Atwood. Canada Post is proud to be one of Canada's storytellers.
The extent to which customers, entrepreneurs and businesses of every size count on Canada Post is always a driving force in the Board's deliberations and decisions. The pandemic has underscored Canada Post's essential role in delivering for the country. A multi-year program of significant investments in service and capacity is under way. It includes major investments in several communities and innovative approaches to meet the needs of smaller communities. I think of the community hubs in two Indigenous communities of High Prairie, Alberta (hub opened in fall 2021), and Membertou, Nova Scotia (slated to open in spring 2022), which feature a wide range of postal, financial and community services.
In 2021, the Board also approved several strategies to support employees and demonstrate leadership on social and environmental issues. These include a 10-year Health and Safety Strategy, a five-year Mental Health Strategy, and a five-year Strategy for Equity and Diversity. I am confident that as Canada Post executes these strategies, Canadians will see significant and steady progress.
Canada Post not only serves the country – but celebrates it as well. I was honoured to take part in the unveilings of stamps that celebrated incredible Canadians with touching tributes. Earlier this year, it was a particular delight for me to see Vancouver's Eleanor Collins, Canada's first lady of jazz, still vibrant at 102, rediscovered by Canadians as if again taking the stage.
Helping to deliver a stronger Canada and a renewed Canada Post
In the Board's oversight role, Canada Post's dual mandate is always top of mind. We embrace both parts of that mandate – to serve every Canadian address and to remain financially self-sufficient. The Board acknowledges that Canada Post has a great deal of work ahead to achieve the goal of long-term financial self-sustainability. The strategic transformation detailed in this Annual Report, with significant investments and leadership on numerous fronts, will help it reach that goal. Focusing our efforts on our purpose, A Stronger Canada – Delivered, resonated with me and with the entire Board.
I would like to thank two members of the Board – Sharon Sparkes and Bernd Christmas, whose terms ended in 2021 – for their dedication and service. I also welcome publicly those who joined the Board in 2021 and more recently, bringing a wealth of experience: Krista Collinson, André Hudon, Ann MacKenzie and Ron Cuthbertson.
In closing, I look forward to seeing these exciting strategies have a positive impact on the Corporation and its employees, but just as important, on the country we all serve now and in the years to come.



Suromitra Sanatani, LL.B., ICD.D
Chair of the Board of Directors