Doing right by our people
Canadians value our service and understand it's our incredible employees who make it happen every day. They expect us to treat our people with care and respect. We also have a responsibility to keep our employees safe, and to ensure our workforce and culture reflect Canada and the priorities of Canadians. In 2021, we became a safer, more engaged and more inclusive workplace.
We call our responsibility in these areas "doing right by our people" and made it one of the three key pillars of A Stronger Canada – Delivered.
Embedding safety into our culture
We are prioritizing the safety and well-being of our employees, customers and the communities we serve.
10-year Health and Safety Strategy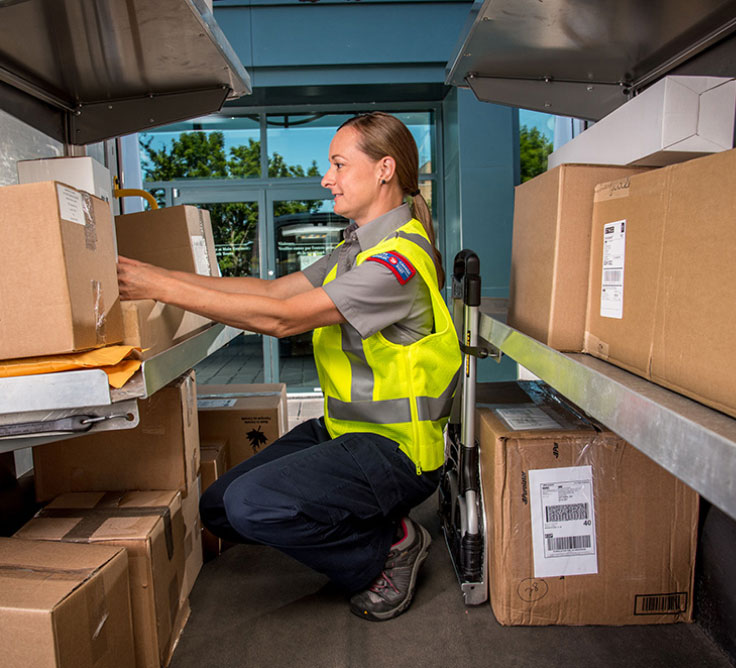 Our new 10-year Health and Safety Strategy is the foundation for every health and safety initiative at Canada Post.
The strategy has five pillars: visible and effective leadership; developing a safety mindset; strengthening our oversight process; the mental health and well-being of our people; and road safety.
It builds on the great work of our Make it safe, Make it home program to help us achieve best-in-class safety results.
In 2021, we also introduced three cultural norms to our workplaces, expecting our employees to:
Conduct a safety pause or mental wellness moment or diversity-safe reflection at the start of every meeting to foster healthy collaboration.
Always hold the handrail when using stairs to help prevent a fall.
Reverse into their parking spot to reduce the risk of collisions.
We also launched our Driver Safety Recognition program to recognize employees who consistently demonstrate safe driving behaviour.
Spotlight on mental health and wellness
The mental health of employees is as important as their physical health and safety. In 2021, we formally adopted a five-year Mental Health Strategy to address stress, fatigue and workloads. It builds on our Keep Wellness in Mind program, which supports the health and well-being of employees and their families.
Improving our safety performance
Despite the ongoing challenge of COVID-19, our employees did a commendable job of reducing injuries in 2021. For the third straight year, we reduced both the total injury frequency (TIF, the number of total injuries per 100 employees) and lost-time injury frequency (LTIF, the annual number of injuries per 100 employees that caused an employee to miss at least one day of work after the day of injury).
In 2021, compared to 2020:
Our TIF was 6.58 – a 4-per-cent improvement.
Our LTIF was 3.15 – a 1-per-cent improvement.
Slips, trips and falls continue to be our most common type of injury. In 2021, we reduced them by 6 per cent compared to 2020. For manual material handling, our second most common type of injury, we reduced injuries by 4 per cent. While the motor vehicle collision rate increased slightly by 0.3 per cent in 2021, this is compared to the 11-per-cent drop we saw in 2020, which we attribute in part to fewer cars on the road in most locations due to the pandemic.
Overall, the severity of lost-time injuries improved by 8 per cent.
Coping with the ongoing impact of COVID-19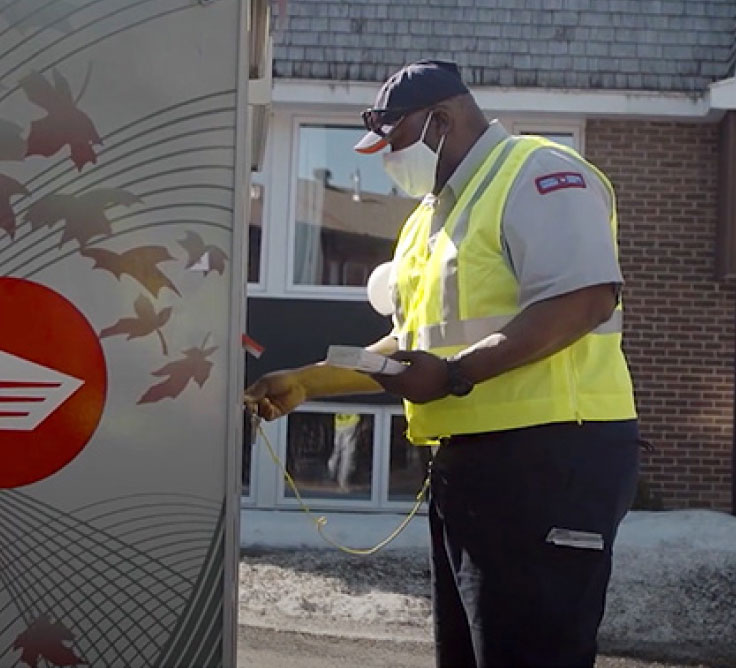 As the pandemic spread in communities across Canada, our worst fears were eventually realized: Three of our employees passed away in 2021 after testing positive for COVID-19. In this very difficult situation, we informed and offered support to their colleagues and expressed our heartfelt sympathies to their families while respecting their privacy.
Since the start of the pandemic, we have taken each positive case involving employees seriously and kept our people and local union representatives informed. We also follow cleaning and sanitization protocols based on public health guidance, and enforce important measures like physical distancing and mask-wearing in our facilities.
In January 2021, for example, when the COVID-19 case count in the nearby communities was high, Peel Public Health declared an outbreak at our Gateway processing facility in Mississauga. Working closely with them and taking their direction, we sent one shift of employees home for 14 days, then implemented a mandatory testing program of all employees and contractors within the facility.
As the COVID-19 situation evolved across Canada, we adapted our safety protocols based on the guidance of public health experts:
We used a risk-based approach and created a playbook of program changes related to COVID-19 protocols across the company. This allowed us to maintain our ability to serve Canadians while prioritizing the health and safety of our employees, contractors and customers.
In facilities with higher rates of employees testing (or presumed) positive for COVID-19, we deployed rapid testing either through on-site clinics or at-home test kits. We tracked positive cases daily to know when to respond.
When provinces relaxed their COVID-19 protocols amid rising vaccination rates in summer 2021, we began to gradually roll back, over 10 stages, the temporary measures that we implemented during the pandemic. The timing of various steps was later adjusted as the situation and public health guidance evolved.
We also hosted vaccination clinics for our employees and their families. We later developed a national Mandatory Vaccination Practice for employees, which was aligned with the federal government's approach. We are grateful that as of December 31, 2021, 97 per cent of our employees actively at work had attested to being fully vaccinated. For the remaining employees, many were in the process of becoming fully vaccinated – and conducting twice-weekly rapid tests – while some requested an accommodation on human rights grounds.
Building alignment with our bargaining agents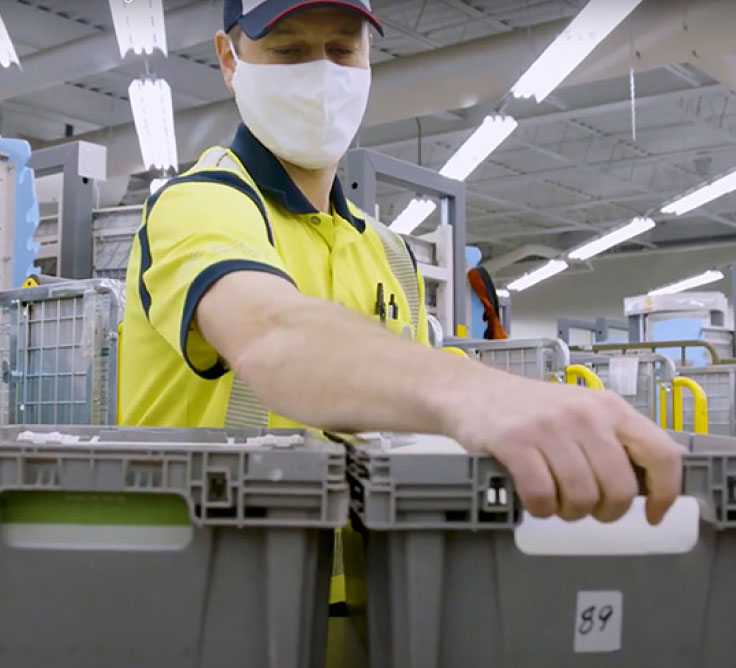 Canadians count on us to work collaboratively with our bargaining agents for the benefit of our employees, customers and the communities we serve. This has been a major focus.
In 2021, relationship building, as well as accelerated and non-traditional negotiations, led to new or extended collective agreements before the current contracts expired with:

the Association of Postal Officials of Canada (APOC); and
the Canadian Union of Postal Workers (CUPW) (both the Urban and the Rural and Suburban Mail Carriers units).

We meet regularly with our bargaining agents to share information and consult on matters important to them.

Two examples are the Relationship Committee with APOC (intended to facilitate contact at the highest levels of each organization) that started in 2021, and continued work in the Relationship Committee with CUPW.
We also continue to meet regularly with senior leaders of the Canadian Postmasters and Assistants Association and the Public Service Alliance of Canada/Union of Postal Communications Employees.

Our Joint National Equity and Diversity Committee includes representation from all bargaining agents. Our new Five-Year Strategy for Equity and Diversity was also co-created with our union partners and guidance from the Canadian Centre for Diversity and Inclusion.
In collaboration with all four of our bargaining agents, we published our Environmental Action Plan (EAP). The Plan outlines our commitments in four key areas: climate action, zero waste, sustainable delivery and engaging our employees.
Our Local Joint Health and Safety Committees, which include union and management representatives, are important partners in our 10-year Health and Safety Strategy and ongoing efforts to improve safety.
Creating a fair and respectful workplace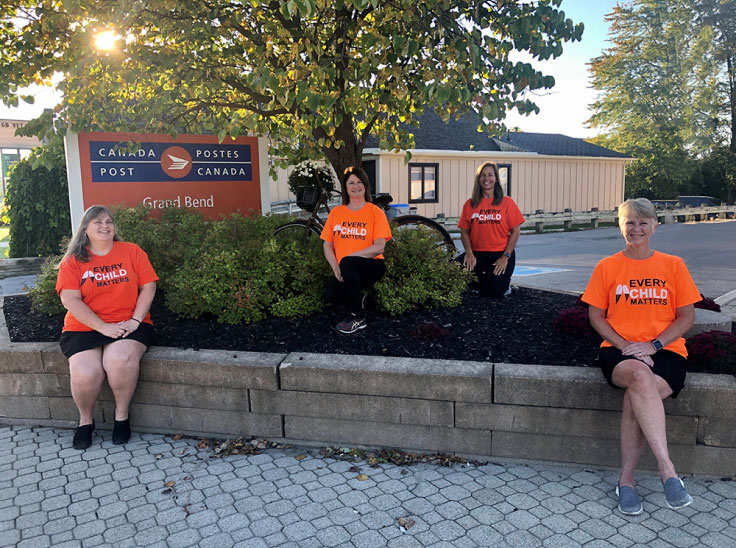 Canada Post employees were invited to wear orange shirts to work to show their support for Orange Shirt Day and the National Day for Truth and Reconciliation. Employees (from left) Kathy Hutchinson, Lisa Merner, Andra Brand and Darlene Rumford are pictured outside the post office in Grand Bend, Ontario.
We are committed to creating a diverse and inclusive workplace where employees are proud of where they work and have opportunities to build a fulfilling career. We want to attract, grow and retain talent by embracing our differences. Here are some of the ways we're becoming a more engaged and inclusive workplace:
The participation rate for our 2021 Employee Engagement Survey was about double what it was in 2020. Employees also submitted nearly 59,000 comments, providing us with invaluable feedback to act on.
We introduced our Hybrid Workplace Practice. It encourages team leaders and employees to explore options that provide flexibility and establish a healthy work-life balance, while meeting the needs of the business.
We plan to invest $5 million to advance equity, diversity and inclusion across the company; provide training on unconscious bias and respect in the workplace; and increase the representation of Indigenous Peoples, persons with disabilities and visible minorities in our workforce.
The 2021 Equity and Diversity Action Plan lists 40 steps Canada Post will take to advance equity, diversity and inclusion, including our Anti-Racism Action Plan and establishing employee resource groups. Employee membership is active for the Women in Network (WIN) and LGBTQ2S+ Pride groups. For the resource groups for Indigenous Peoples, persons with disabilities and anti-racism, the focus in 2021 was establishing steering committees with participation from all bargaining agents. These groups will open to employee membership in 2022.
We commemorated the first National Day for Truth and Reconciliation (on September 30) with several initiatives over a week leading up to the important day. These included:

Canada Post's head office in Ottawa was lit up in orange at night from September 24-30.
Employees were invited to wear an orange shirt to work on September 29 and 30 to show their support for Orange Shirt Day and the National Day for Truth and Reconciliation.
We also announced two new initiatives for 2022:

We will work with Indigenous leaders and communities to issue an annual Truth and Reconciliation stamp.
The Canada Post Community Foundation will award an annual signature grant of $50,000 to a national organization offering programming anchored in truth and reconciliation.

Our Accessibility Strategy will guide us in providing a more accessible and inclusive environment for employees by identifying, removing and preventing barriers.
We will introduce our new values and behaviours to all employees in 2022. By aligning around these, we will develop a stronger culture that is better suited to what our employees want and what's required in the future.